markets
ECB Rate Hike in 2019 Not an Absurd Expectation, Weidmann Says
By and
Bundesbank president sees signs balance of risks has improved

Central bank raises provisions to buffer interest-rate risk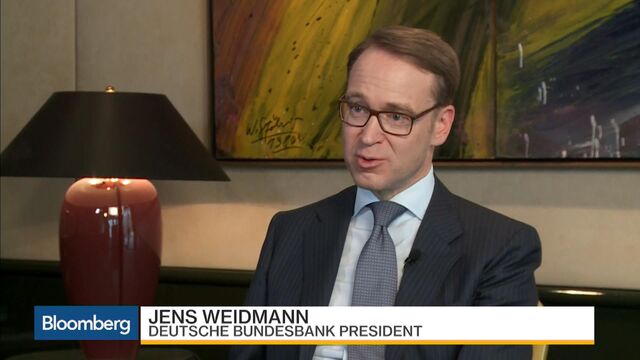 Investor expectations for an interest-rate increase by the European Central Bank in 2019 aren't totally unjustified as downside risks to the economic outlook recede, according to Bundesbank President Jens Weidmann.
"The balance of risk might be more favorable today than it was before," Weidmann said in an interview with Bloomberg TV. Anticipations of a change in borrowing costs in two years "don't sound absurd" and are "in the possibilities that I see," he said in Frankfurt after presenting the central bank's annual report.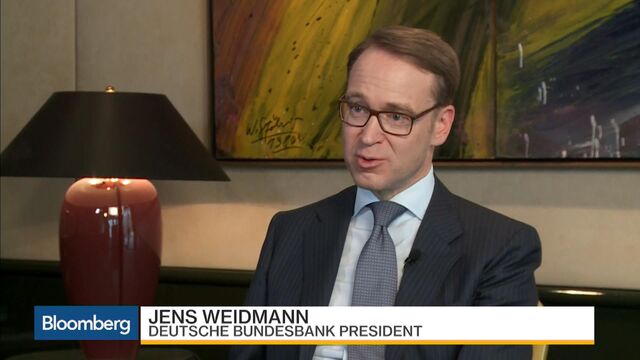 Accelerating inflation and a strengthening economic outlook have fanned a debate in the 19-nation euro area about the appropriate degree of stimulus as central banks prepare for a policy shift. While officials including Weidmann are arguing that the time to talk about an exit is coming closer, ECB President Mario Draghi contends that record low rates and a 2.28 trillion-euro ($2.4 trillion) quantitative-easing plan are still necessary to produce a sustained pickup in inflation.
"The global economy, but as well the economies of the euro area, have shown a certain robustness vis-a-vis surprises that we felt before were risks to our forecast," Weidmann said. "We believe that the upswing that we've already seen before will continue. That means also that domestic price pressures will increase over the forecast horizon."
For the latest ECB projections on growth and inflation, click here
The Bundesbank raised its risk provisions by 1.8 billion euros to 15.4 billion euros at the end of 2016. Weidmann said a "similar" amount as last year will be set aside in 2017 to manage losses the Bundesbank anticipates to make once the ECB starts to raise interest rates.

The central bank's core problem is its purchases of negative-yielding bonds, which are guaranteed to lose money as long as they're on the balance sheet. For now, those losses are far outweighed by income from the negative deposit rate -- effectively a charge on lenders' excess liquidity -- but as interest rates rise, the financial position could deteriorate.
"These provisions are not connected to a forecast of monetary policy decisions and don't assume a certain future interest rate path, but serve to reflect a range of possible developments."
The Bundesbank posted a profit of 963 million euros for the year, of which it transferred 399 million euros to the government -- the lowest amount since 2004.
Total interest income was 3.7 billion euros in 2016, up from 3.3 billion euros the previous year. Losses from public-sector asset purchases were small compared to income from the deposit facility and previous asset-purchase programs such as the Securities Markets Program, the report showed.
| Interest Income in Million Euros | 2016  | 2015 |
| --- | --- | --- |
| Refinancing Operations | 0 | 40 |
| Deposits of Credit Institutions | 1,047 | 248 |
| SMP Portfolio | 1,366 | 1,684 |
| Covered Bond Program 1+2+3 | 313 | 305 |
| Public Sector Purchase Program | -78 | - 11 |
Still, that could change as SMP assets mature over the next years and interest rates start to rise -- a process that economists surveyed by Bloomberg predict will start around 2019. UBS Chairman Axel Weber told Swiss magazine Bilanz that he expects the end of the ECB's negative-interest-rate policy next year.
When that happens, the Bundesbank is likely to be the worst-affected among the 19 euro-area central banks, given that it buys the largest share of government bonds, a good chunk of which have negative yields.
While Weidmann conceded that the ECB is right to keep monetary policy accommodative, he criticized the Governing Council's decision to extend QE through the end of 2017.
"I was not very supportive of that step," he said. "The monetary-policy stance that I would have been willing to accept is less expansionary than the current one."
One can certainly ask "when we might slow down monetary policy and whether the ECB Governing Council shouldn't make its communication more symmetrical beforehand, for instance by not only pointing to the fact that monetary policy could be even more expansionary."
ECB Executive Board member Yves Mersch said on Feb. 10 that policy makers shouldn't wait long to review its guidance that interest rates can be cut if needed as the economic outlook brightens.
German Outlook
The Bundesbank also provided an update on its outlook for Europe's largest economy.
"This year and next, the economic trend should continue on an upward trajectory," Weidmann said. "Even so, the positive outlook shouldn't disguise that long-term growth perspectives in Germany are below average," he said, pointing particularly to demographics.
A report published earlier in the day confirmed the German economy grew 0.4 percent in the final quarter of 2016, bolstered mainly by strong domestic demand.
— With assistance by Vogeli Voegeli
Before it's here, it's on the Bloomberg Terminal.
LEARN MORE