pursuits
`Shock-and-Awe' Campaign Planned in Johannesburg Inner City
By and
Johannesburg plans evictions from 'hijacked buildings'

Opposition-led city sees human-rights groups as challenge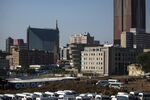 Johannesburg municipal authorities are planning to clear the city center's buildings of unauthorized occupants in a "shock and awe" campaign being considered by its mayor, Herman Mashaba, who's already drawn criticism for calling some undocumented migrants criminals.
The plan to return "hijacked buildings" to their owners or have them forfeited to the state was discussed on Feb. 6 at the municipality-convened Inner City Partnership Forum, according to a presentation by the city's Regulatory, Compliance and Special Investigations unit seen by Bloomberg.
Johannesburg's forensic unit "will adopt the 'shock and awe' doctrine" based "on the use of overwhelming power and spectacular display of force to paralyze the enemy's perception of the battlefield and destroy its will to fight," it said, adding that the strategy was used by U.S. forces in Iraq.
Targeting the center of South Africa's biggest urban area and economic hub, home to 400,000 of the city's 5 million people, according to municipal data from 2013, could ratchet up criticism of Mashaba after the government and civil-rights groups censured him for his comments about immigrants. His Democratic Alliance won control of Johannesburg in an August municipal vote in an unprecedented defeat for the African National Congress, which governs the country. The presentation cited rights groups as a challenge to the plan.
'Unconstitutional' Position
"There is a prejudice against foreign nationals and there is a prejudice against people who are poor," Bonita Meyersfeld, head of the Centre for Applied Legal Studies, which has been representing people in illegal eviction cases since 1978, said on Wednesday. "The mayor, in my view, has taken a position that is unconstitutional. Isn't it a real problem that he sees human rights organizations as a challenge?"
Mashaba said no firm decision had been taken on the plan.
"It would be premature to have a public discussion around this particular matter because the team only presented to us a concept which is it at such a very early stage," he said by phone. He also pledged to deal with whoever leaked the document. "We will flush them out of the system," he said.
People living in Johannesburg's inner city are a mix of South Africans and foreign nationals. Anti-immigrant attacks in South Africa in 2008 claimed as many as 60 lives and forced about 50,000 to flee their homes. Violence flared again in 2015, when mobs wielding machetes and sticks killed seven people before the army and police restored calm. Earlier this year Nigerian owned properties were torched in Rosettenville, just south of the city center.
High Rent
Many households in the inner city earn less than 3,200 rand ($243) a month, according to the Socio-economic Rights Institute of South Africa, citing 2011 data, and they can't find housing in the area for the 700 to 900 rand they can afford in rent, it said. They're drawn to the area by the proximity to occasional work opportunities, schools, health-care facilities and reduced transportation costs. Buildings in the city are occupied by migrants from both beyond South Africa's borders and from within the country, Meyersfeld said.
The municipality's presentation "suggests that poor people have had a choice in choosing to occupy a dangerous, dilapidated, awful place in the inner city," she said. "That doesn't exist; we have a housing crisis."
The presentation lists the National Prosecuting Authority, the Asset Forfeiture Unit and Home Affairs, which deals with immigrants, as the "main external stake holders for the program."
Mmusi Maimane, the leader of the Democratic Alliance, said in an interview that he has seen the "poorly worded" presentation and will take up the issue with Mashaba because it is important for the municipality to operate within the confines of the law.
(
Adds anti-immigrant attacks this year in eighth paragraph.
)
Before it's here, it's on the Bloomberg Terminal.
LEARN MORE