Venezuela's VP Refutes 'Kingpin' Charges in Full-Page New York Times Ad
By
El Aissami says lobbyists are deceiving Secretary Mnuchin

He says he doesn't hold assets in U.S. or anywhere else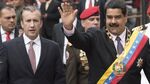 Venezuelan Vice President Tareck El Aissami proclaimed his innocence and slammed a decision earlier this month by the U.S. Treasury to impose sanctions on him due to suspected narco trafficking in a full page advertisement published Wednesday in the New York Times.
El Aissami, who just a week ago became one of the most-senior government leaders of any country added by the Treasury Department to a list of foreign nationals subject to economic sanctions under the Foreign Narcotics Kingpin Designation Act, said that the case against him lacked evidence and accused "political sectors, lobbyists and stakeholders" of trying to deceive Treasury Secretary Steven Mnuchin in an attempt to prevent the two countries from trying to improve their historically tense relationship.
"They have built a false-positive case in order to criminalize - through me - the Government of the Bolivarian Republic of Venezuela," El Aissami wrote, adding that the country was making great progress in the battle against the international drug trade. The "decision constitutes a serious violation against my human rights and seriously damages my dignity and honor."
The sanctions came as U.S. President Donald Trump works to set the tone for the country's already eroding relationship with Venezuelan President Nicolas Maduro, who appointed El Aissami as vice president on Jan. 4 amid a deepening economic crisis. Trump last week called for the release of jailed opposition leader Leopoldo Lopez in a message posted on his Twitter account with a picture of himself, Vice President Mike Pence, Republican Senator Marco Rubio and Lilian Tintori, Lopez's wife, at the White House.
Maduro, in his Sunday talk show, said that Venezuela wanted a relationship of respect with the U.S. but warned Trump against following policies of previous U.S. administrations.
"President Trump, open your eyes," Maduro said. "Don't let them bind you to the failed policies of regime change against Venezuela and Latin America of the old administrations of George W. Bush and Barack Obama."
To read a profile on Tareck El Aissami, click here.
El Aissami, the son of Syrian and Lebanese immigrants, has long been one of Venezuela's most controversial and feared politicians. In just over a decade, the 42-year-old climbed government ranks from a student leader in rural Venezuela, to interior minister, to his previous post as the governor of Aragua state.
The U.S. Treasury also targeted Samark Lopez Bello, a Venezuelan national who Mnuchin in a press conference last week characterized as "Aissami's primary frontman." 
"This action demonstrates the president's seriousness about fighting the scourge of drugs in the United States," Mnuchin said, adding that tens of millions of dollars would be frozen. "In addition, he wants to send a clear message to the people of Venezuela that America stands with them."
Along with the sanctions, the U.S. also froze assets of five U.S.-based companies with real estate holdings in Miami. Among the properties blocked in the U.S. were three in the Brickell neighborhood of Miami in a building that hosts the Four Seasons Hotel.
"I have no assets or accounts in the United States or in any country of the world, and it is both absurd and pathetic that an American administrative body - without presenting any evidence - adopts a measure to freeze goods and assets that I do not own at all," El Aissami wrote in the advertisement.
The U.S. measures were imposed under the Kingpin Act, which was signed into law by President Bill Clinton in 1999. It has targeted approximately 2,000 individuals since 1999, including eight Venezuelan officials.
Before it's here, it's on the Bloomberg Terminal.
LEARN MORE