Lloyds Climbs to Highest Since Brexit on Dividend Boost, Outlook
By
Lender reports a surprise climb in adjusted pretax profit

Lloyds says net interest margin will be above 2.7% this year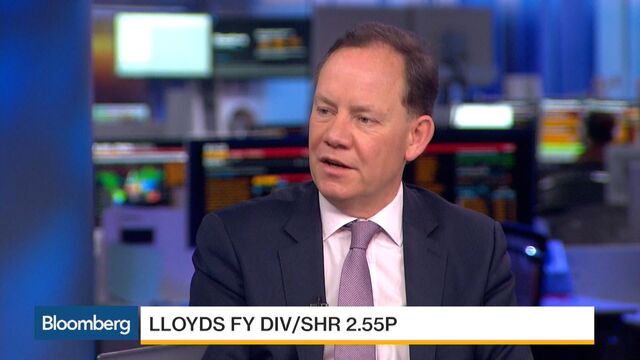 Lloyds Banking Group Plc jumped to the highest level since the Brexit vote after it boosted the dividend and said lending margins would hold up amid record-low U.K. interest rates.
Shares in Britain's largest mortgage lender climbed as much as 4.1 percent to their highest price since June 23. Excluding one-time charges, pretax profit rose 2 percent to 1.79 billion pounds ($2.23 billion), topping the 1.71 billion-pound average of seven analyst estimates compiled by Bloomberg News.
Chief Executive Officer Antonio Horta-Osorio, 53, is looking to protect Britain's largest consumer bank from the pressure of record-low interest rates by eliminating jobs and expanding in higher-margin lending with the acquisition of Bank of America Corp.'s MBNA U.K. credit card business. Lloyds said its net interest margin would be more than 2.7 percent in 2017 before the MBNA purchase, higher than many analysts had forecast.
"Investors worry about the margins, so re-emphasising their commitment was good given you've got this falling interest rate environment," said Eric Moore, who helps to oversee 2.9 billion pounds of assets at Miton Group Plc, including Lloyds shares. "That sounded better than people feared."
Lloyds shares climbed 3.6 percent to 69.17 pence at 9:50 a.m. in London trading. The stock has now gained 11 percent so far this year. BlackRock Inc. replaced the U.K. government as the largest shareholder last month as the state continues to gradually shed its stake.
Dividend Boost
Lloyds said it would pay an ordinary dividend of 2.55 pence per share and a special dividend of 0.5 pence, up from total payouts of 2.75 pence per share a year earlier. The firm's core Tier 1 capital ratio, a measure of financial strength, rose to 13.8 percent from 13.4 percent at the end of September, while the lender said it would probably generate between 170 and 200 basis points of capital each year.
"After the MBNA acquisition, people thought 'We're not going to get a special this year,' so the fact there was one is good news," Moore said.

Pretax profit including restructuring and conduct charges was 973 million pounds, compared to a loss of 507 million pounds a year earlier, the London-based bank said in a statement Wednesday.
"Strong capital generation, which is a consequence of our business model, has enabled us to fully cover the expected capital impact of the MBNA acquisition, increase our ordinary dividend by 13 percent and pay a special dividend," Horta-Osorio said in the statement.
Although record-low interest rates from the Bank of England are putting pressure on lending margins for U.K. banks, Lloyds said it expected to soften the blow by limiting payments on consumer deposits and from reduced wholesale funding costs. The net interest margin, the difference between income from lending and the cost of funding, fell to 2.68 percent in the last three months of the year from 2.69 percent in the third quarter.
Falling Impairments
Low rates and a better-than-expected performance in the British economy following the Brexit vote are also helping to suppress delinquencies on loans. Impairments fell 16 percent from a year earlier to 196 million pounds, while executives said on the call with reporters the outlook for the U.K. was good. Revenue fell 2 percent to 4.35 billion pounds.
The bank had more than 800 million pounds of one-time items, including 475 million pounds of conduct charges and 232 million pounds of restructuring costs. Chief Financial Officer George Culmer said the conduct provisions, which related to issues including claims over packaged bank accounts, were "disappointing," and the bank expects them to fall in future periods.
However the bank didn't take any provisions for wrongly-sold payment protection insurance in the quarter helping to boost its bottom-line, after a 2.1 billion-pound charge in the year-earlier quarter drove that period's loss. Lloyds has taken more than 17 billion pounds in provisions since 2011 for PPI, more than any other major bank in the nation's costliest financial scandal.