Iberdrola Proposes Dividend Hike, Sees 2017 Networks Growth
By
Grid unit bolstered by Spanish regulations, U.S contribution

Spanish utility comments on full-year results in filing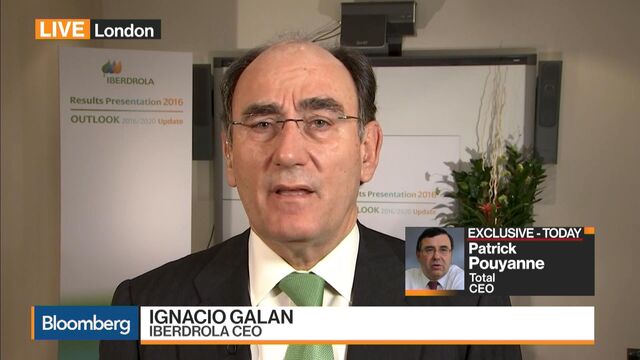 Iberdrola SA plans to boost its 2016 dividend by 11 percent as Spain's biggest power company forecast increased revenue for this year from its renewable energy and network businesses.
Net income for last year rose 11.7 percent, bolstered by contributions from its U.S. business and new production of renewables in Spain, the Bilbao-based company said in a statement Wednesday. Europe's second-largest power company predicted "mid single-digit" growth for both earnings and net income in 2017, it said.
Improvements in its networks business will come from new regulated rates for power at its U.S. unit, the company said. Renewables revenue will increase from more capacity, with 1,484 megawatts, or enough to power 2.8 million European homes, expected to come online in the second half of 2017.
Chief Executive Officer Jose Ignacio Sanchez Galan's increased focus on the Americas has helped revenue triple in the past decade. An improving economy in Brazil combined with a growing U.S. business helped offset the impact of a weaker pound and reduced generation in the U.K. The utility said last month that it will invest about $600 million in a new power plant in Mexico.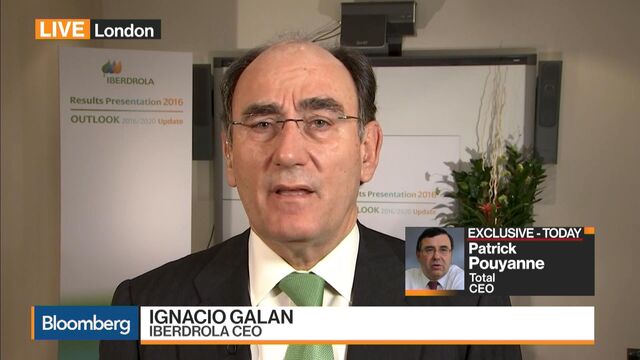 The company continues to look at opportunities for acquisitions, with a focus on "going to the west," Galan said in an interview with Bloomberg TV. Iberdrola's U.S. energy company Avangrid Inc. provides renewable energy to clients including Apple Inc., he said.
In Spain, total electricity output rose 11 percent as hydropower generation increased amid improving water levels, while natural gas-fired power plant production more than doubled. Total generation in Brazil climbed 91 percent. U.K. output fell 21 percent.
Iberdrola's network revenue expanded 11.8 percent to 6.2 billion euros in 2016 from a year earlier, the company said in the filing.
The utility is seeking shareholder approval to make a 0.175-euro-per-share dividend payment in July, taking the total paid from 2016 earnings to 0.31 euros per share.
Iberdrola fell 0.2 percent to 6.096 euros a share by 10:16 a.m. in Madrid. The stock is down 2.5 percent this year compared with a 0.25 percent gain in the Stoxx 600 Utilities index.
Net income rose 11.7 percent year-on-year to 2.7 billion euros; analysts' est. 2.6 billion.
Ebitda increased 5.5 percent to 7.8 billion euros, in line with est.
Revenue fell 7 percent to 29.2 billion euros 
Before it's here, it's on the Bloomberg Terminal.
LEARN MORE