markets
Gordhan Holds Budget Line as Conflict With Zuma Simmers
By and
Treasury sticks to deficit targets, trims spending ceiling

Finance chief says growth prerequisite for transformation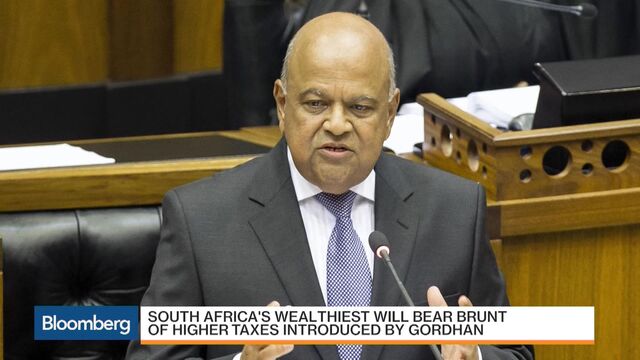 South African Finance Minister Pravin Gordhan held his ground in a feud with President Jacob Zuma over control of the nation's finances as he stuck to deficit targets and warned his detractors not to "mess" with the National Treasury.
In the budget presented Wednesday, Gordhan allocated no new money for nuclear power plants favored by Zuma, and stressed the need for the state to focus on fiscal prudence, reducing waste and reviving an economy that's set to expand 1.3 percent this year. The National Treasury trimmed its expenditure ceiling by 26 billion rand ($1.98 billion) over the next two fiscal years and pledged to narrow the budget deficit to 2.6 percent in the year through March 2020, from 3.4 percent this year.

Speculation that Gordhan is on the verge of being fired has swirled for months, as he clashed with Zuma over the management of state companies and the national tax agency. While Gordhan has led efforts to keep spending in check and fend off a junk credit rating, Zuma wants to embark on "radical economic transformation" to tackle racial inequality and widespread poverty.
"It is in the interests of all South Africans that there are a couple of institutions that you don't mess with," Gordhan told reporters before delivering his budget address. "Treasury is one, revenue collection is another. It can take many years to build a solid institution, but a very short time to mess it up. Overnight someone could come in and say: 'I don't like it,' and that's the end of the story."
Economic Transformation
Gordhan told Parliament that economic transformation and growth were inextricably linked.
"Without transformation, growth will reinforce inequality," he said. "Without growth, transformation will be distorted by patronage."
Opposition parties have accused Zuma, 74, of being at the forefront of looting state funds and speculated that he wants to appoint a more compliant head of the National Treasury with a view to furthering his financial interests and those of his allies.
While Zuma denies the allegations, the Constitutional Court last year ruled that he broke his oath of office by refusing to repay taxpayer money spent on his private home. The nation's graft ombudsman also implied that he allowed members of the Gupta family, who are in business with his son, to influence cabinet appointments and the issuing of state contracts. Zuma and the Guptas deny having ever intentionally broken the law.
Zuma Rift
Gordhan described the budget as a collaborative effort by the whole cabinet and told state-owned broadcaster SABC that talk of his imminent removal was "only gossip."
The rand reversed gains and was 0.1 percent weaker at 13.1537 per dollar by 4:17 p.m. in Johannesburg after strengthening as much as 0.7 percent earlier. Benchmark 10-year bond yields were two basis points lower at 8.77 percent after falling as low as 8.71 percent.
"The finance minister was working with very limited resources, he is working within the political sphere which is arguably very challenging at the moment," Jeffrey Schultz, senior economist at BNP Paribas Ltd., said by phone. "A significant amount of risk still exists in the system, both global and domestic."
The country's wealth should be shared through fair, transparent and predictable means, the Treasury said.
"Transformation is not a zero-sum game," it said. "The benefits of empowerment should be accessible to all citizens, not limited to connected insiders."
Cabinet Change
Zuma named Gordhan, 67, finance minister in December 2015 after his decision to install a then little-known lawmaker to replace the respected Nhlanhla Nene hammered the nation's bonds and currency and spurred African National Congress and business leaders to plead with him to reconsider. Local newspapers have reported that another cabinet reshuffle may be imminent, with Zuma tapping Brian Molefe, the former head of the state power company, to replace either Gordhan or his deputy Mcebisi Jonas.
Gordhan fueled the speculation Monday when he told broadcaster eNCA that "we are just humble civil servants" and that he's "not indispensable." Parliament said last week the ANC intends appointing Molefe as a lawmaker, a move that would ease the way for Zuma to name him as a minister.
"There is a lot of noise going on at the moment," said Dennis Dykes, chief economist at Nedbank Group Ltd. "I think there is conflict there. This might be his last stand but everyone is hoping that sense will prevail and basically what is a very principled minister will be retained."
Police Investigation
While Zuma denies he's at war with his finance chief or that he intends dismissing him, he's said a police investigation into allegations that Gordhan oversaw the establishment of an illicit investigative unit when he headed the tax agency must run its course. The president has also rebuffed his request to fire tax chief Tom Moyane for insubordination.
And while Gordhan has asked the High Court to order that he can't intervene in a decision by the nation's four biggest banks to shut the accounts operated by the Gupta-controlled companies after an anti-money laundering unit implicated them in irregular transactions, Zuma suggested the lenders may have been guilty of collusion.
"Both the deputy minister and I serve at the pleasure of the president," Gordhan told reporters. "We have done the job as best we can, and our record is clear in what we have achieved in the past 14 months. But if the president chooses to redeploy us in any way, that's his prerogative. I don't have any appeal process."
— With assistance by Arabile Gumede, and Ana Monteiro
(
Updates with rand reaction in second paragraph after Zuma Rift subheadline.
)
Before it's here, it's on the Bloomberg Terminal.
LEARN MORE