Macron Seals Centrist Pact, Boosting French Presidential Campaign
By and
Bayrou says French moderates must unite in critical situation

Macron is in a three-way race with Republican Fillon, Le Pen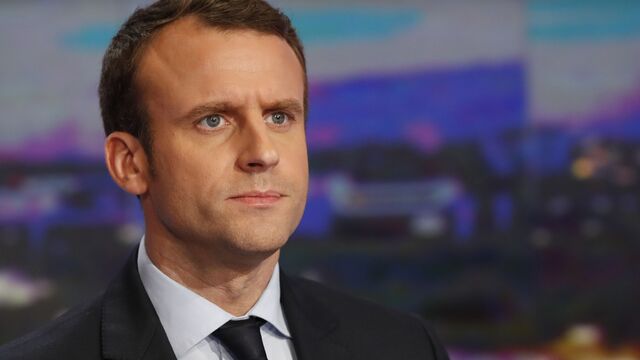 Independent candidate Emmanuel Macron agreed to an alliance with his centrist rival Francois Bayrou, boosting his run for president of France after a difficult week.
Macron told Agence France-Presse that he's accepted Bayrou's offer of a deal to avoid splitting the moderate vote in April's first round ballot.

"We are in such a risky situation and for this situation we need an exceptional answer," Bayrou said earlier during a press conference in Paris. "Macron is brilliant."
Bayrou, the 65-year-old mayor of the southern town of Pau, was a contender in the 2007 presidential election when he won 18.6 percent of the vote in the first round, narrowly missing out on making the run-off. His share of the vote slipped to 9.1 percent in 2012 and recent polls have shown only about 5 percent would back him this time.
With the 2017 race shaping up as a tight three-way contest, even that might have hurt Macron.
"Maybe for me it's a sacrifice, but sometimes you must make a gesture that reflects the gravity of the situation," Bayrou said. "A fragmentation of the vote would only harm the situation."
Bonds Rise
French government bonds rebounded on Bayrou's announcement after three days of declines. Ten-year yields fell eight basis points to 1.01 percent at 5:59 p.m. in Paris after trading as high as 1.11 percent earlier in the session.
"Pressure is probably too high on French bonds, and the selloff has been excessive," said Marc-Henri Thoumin, a strategist at Societe Generale SA in London.
Recent polls have shown nationalist Marine Le Pen winning the first round on April 23 with about 26 percent while the race for the second slot in the May 7 run-off is a dead heat between Macron and Republican Francois Fillon. An Elabe poll Tuesday showed a Bayrou candidacy would have drained most support from Macron.
Surveys have shown that whoever clinches the second spot in the run-off will become strong favorite to be France's next president. Every poll so far projects that either Macron or Fillon would defeat Le Pen in the second round.
The race for second place has swung back and forth. Fillon, 62, had been ahead until he was placed under investigation in late January over allegations he'd hired family members for no-show jobs. That affair thrust 39-year-old Macron into lead, but he in turn faltered last week when he had to apologize after saying French colonial rule in Algeria had been a "crime against humanity."
Macron has also come under fire for failing to provide a complete and coherent set of campaign promises -- something he pledged to rectify by next week. No one on Macron's campaign team was available to comment on Bayrou's statement.
— With assistance by Marton Eder
Before it's here, it's on the Bloomberg Terminal.
LEARN MORE