Four China Regulators Acting as One Shows Shift in Curbing Risk
Bloomberg News
'Regulatory arbitrage' fueled rampant growth of risky products

Better coordination could make it harder to get around rules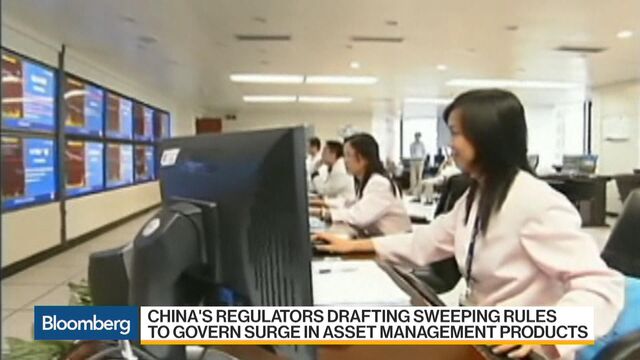 China's regulators are putting together a unified front seeking to beat back growing risks to the financial system from $8.7 trillion in asset management products, including investments in bonds and risky off-balance-sheet lending by banks. 
They're working to draft sweeping new rules governing the surge in these products, Bloomberg News reported earlier this week and a regulator confirmed Wednesday.
That level of collaboration signals a shift toward a more unified approach to financial market supervision, which is currently governed by separate agencies overseeing banks, stock markets and insurance companies, in conjunction with the central bank. 
Until now, when a regulator such as the China Banking Regulatory Commission sought to curb sales of risky products by banks, financial innovators rushed in to develop alternative products overseen by other regulators, such as the China Securities Regulatory Commission. Known as regulatory arbitrage, that may soon get harder.
"Authorities realized the need for much better coordination, and the attempt this time seemed to be unprecedented," said Hou Wei, a Hong Kong-based analyst at Sanford C. Bernstein & Co. "Regulatory arbitrage is rampant. For instance when the CBRC plugged the loophole of trusts, brokerages filled in the vacuum, and they were overseen by different regulators."
To read about regulators' coordinated actions, click here
The idea of consolidation -- or at least greater cooperation -- among regulators has been around for at least a decade, and there's no guarantee the rules being drafted will be adopted. Still, more coordination could enable them to close regulatory loopholes that helped fuel the exponential growth of risky products, seen by some investors as a systemic risk.
"This could be the first step toward a single regulatory body," said Fraser Howie, co-author of the book "Red Capitalism" who has two decades of experience in China's financial markets. "It signals that the political elite know there are real financial risks, that things can't go on as they have been."
Many of these asset management products -- which total 60 trillion yuan ($8.7 trillion), or more than three quarters of China's $11 trillion gross domestic product -- aren't recorded on institutions' balance sheets. As of the end of last year, off-balance-sheet wealth management products issued by banks amounted to 26 trillion yuan, an increase of 30 percent from 2015, according to the People's Bank of China.
Different types of asset management plans issued by institutions governed by separate regulators are being used to get around regulatory control, according to Morgan Stanley analysts.
Reduced Transparency
"This has greatly reduced the transparency of China's financial system," Morgan Stanley's Richard Xu wrote in a Feb. 21 note. "We believe unified regulatory requirements would help reduce the level of regulatory arbitrage."
After China's stock market turmoil in 2015, China began again considering whether a super-regulator could merge existing agencies under one umbrella, said Rajiv Biswas, Asia-Pacific chief economist at IHS Global Insight in Singapore. It's still in the process of reviewing mechanisms for greater regulatory coordination and is studying the regulatory models of other major financial centers, he said.
None of the regulatory agencies responded to faxed requests for comment Wednesday.
Umbrella Agency
Some analysts are skeptical whether an umbrella agency is the solution. Absent the lack of a distinctly different regulatory emphasis and discipline, renaming or creating new working bodies will have little impact, said Christopher Balding, an associate professor at the HSBC School of Business at Peking University in Shenzhen.
"Unless China decides to crack down on credit growth, the rearranging of the deck chairs will not matter a lot," he said.
Regulatory competition among the agencies has made fast growth and financial innovation possible over the past two decades, said Chen Zhiwu, a finance professor at Yale University in the U.S. and a former adviser to China's State Council. Without that competition, China's corporate bond market and fund management industry wouldn't have grown so energetically and so fast, he said.
"Combining all financial regulators into one would do more harm than good to the Chinese economy and society," he said. "What if that super agency would just ban financial innovation or choose inaction over many things? Who would be there to put competitive pressure on them?"
The "unprecedented" level of coordination by the regulators on the draft rules reflects the importance of the issue, said Karine Hirn, a partner at East Capital in Hong Kong, an emerging markets fund manager that oversees about $3 billion.
"The wealth management sector in China has grown to a size where mismanagement could imply systemic risks," she said. "Hence, we welcome the fact that all relevant authorities are willing to coordinate their efforts to clarify the rules of the game."