technology
Fitbit's Sales Plummet as Device's Popularity Fades
By
Fourth-quarter loss missed analysts' average estimates

Company affirms annual forecast of $1.5 billion-$1.7 billion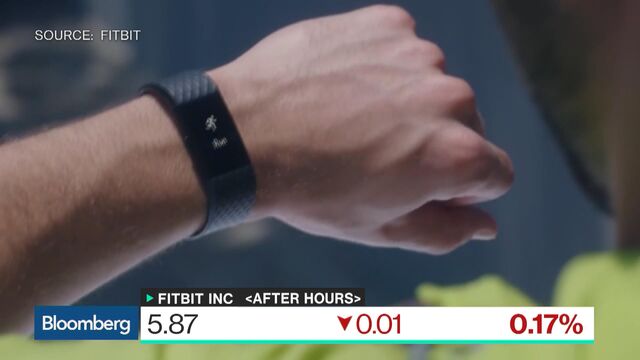 Fitbit Inc.'s fourth-quarter revenue fell 19 percent, hurt by fading consumer demand for its once-popular wearable fitness trackers.
Key Points
Revenue in the quarter -- which includes the holiday shopping season -- dropped to $573.8 million, the company said Wednesday in a statement. Fitbit in January had forecast sales of $572 million to $580 million. Before then, analysts had been predicting $736.4 million, the average of estimates compiled by Bloomberg.
The company's loss excluding certain costs was 56 cents a share. Analysts on average had projected a loss of 53 cents a share.
The Big Picture
Chief Executive Officer James Park has been trying to prove that Fitbit is more than just a maker of trendy gadgets. The appeal of its wristbands has waned with consumers as the company faces competition from Apple Inc.'s higher-end watch and cheaper Chinese models, and last month Fitbit said it would eliminate 6 percent of its workforce. Park is seeking to diversify the business, including expanding into the smartwatch category and pushing its corporate-wellness offerings. His goal is to turn Fitbit into a digital-health company -- one that relies less on consumers and focuses on selling to the health-care industry -- but that strategy will take years to unfold.

The Details

Sales in the current period will be $270 million to $290 million, with the loss before some items projected to be 18 cents to 20 cents a share, Fitbit said. Analysts on average predicted first-quarter sales of $307.6 million and a loss of 16 cents. Fitbit reiterated the annual revenue forecast it gave in January, for $1.5 billion to $1.7 billion.
The company sold 6.5 million devices in the fourth quarter. That compares with more than 8.2 million in the quarter a year ago.
About two-thirds of the company's total quarterly sales were generated in the U.S. Revenue in Europe, the Middle East and Africa increased 58 percent to $134 million; Asia declined 56 percent to $24.9 million and the Americas, excluding the U.S., fell 12 percent to $33.4 million.
The company disclosed it spent $23 million for intellectual property and employees from smartwatch startup Pebble Technology Corp. and $15 million for those assets from Vector Watch.
Fitbit shares were little changed in extended trading at 6:19 p.m. in New York after closing at $5.88. The stock has tumbled 64 percent in the past year.
CEO Comments
"We plan on expanding into smartwatches. If you look at any industry data in the market in terms of sell-through, we think entering this market will double our addressable market," Park said in a conference call. "Our acquisition of Coin, Pebble and Vector have accelerated our efforts."
"We are looking at developing form factors beyond the wrist to build a full ecosystem of products that support a consumer's health-and-fitness journey," he said.
"M&A will play a role in health-care opportunities," Park said. "We'll definitely be looking at M&A to accelerate our efforts."
(
Updates with CEO comments in last section.
)
Before it's here, it's on the Bloomberg Terminal.
LEARN MORE