Fed Officials Not Losing Patience Fast Enough to Hike in March
By
Lack of big momentum in inflation keeps gradual policy intact

Majority of Fed officials want more clarity on Trump policies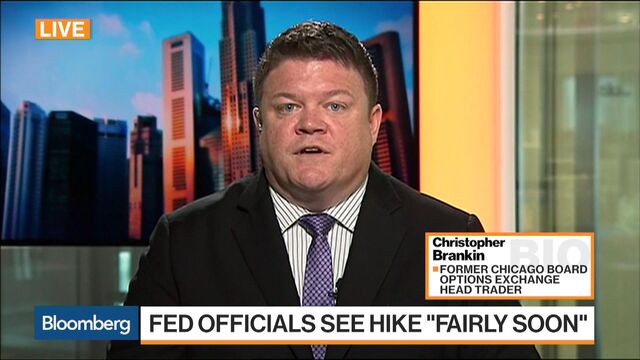 The Federal Open Market Committee is preparing to lose its patience, but probably won't do so in time to raise interest rates next month.
For just about all of last year, U.S. central bankers found reasons not to hike until they finally did in December.
The committee wants to shift out of this ultra-gradual mode, and they seem to have more conviction about a series of increases this year. They penciled in three moves in quarterly projections released in December, but aren't convinced that now is the right time to take the next step. That could change at any time if the data confirm their forecast or beats it, minutes of the Jan. 31-Feb. 1 meeting released Wednesday in Washington showed.
The record revealed a tension between participants who are worried about foot-dragging at a time when economic reports look solid, versus those who want more clarity and still have some concerns about downside risks. Financial markets are betting this resolves into no action in March, which leads to above 50 percent odds of a move in May.
"The data we have seen in the first quarter has been pretty impressive," said Ward McCarthy, chief financial economist at Jefferies LLC in New York. That should meet their hurdle, as stated in the minutes, of data "in line or stronger than their current expectations." What's holding them back is their sense that the risk of a big buildup in inflation pressures seems unlikely for now.
'Modest Risk'
Many FOMC voting members "continued to see only a modest risk of a scenario in which the unemployment rate would substantially undershoot its longer-run normal level and inflation pressures would increase significantly," the minutes said.
That is a view that could shift. The committee will see another round of employment, inflation and spending data before it meets again on March 14-15.

Fed Governor Jerome Powell, speaking with reporters after the release of the minutes, said a rate increase may be appropriate in the near future if the economy stays on track.
Of course, the other big wild cards are the fiscal and regulatory policies of the new administration of President Donald Trump. "Most participants," meaning a majority, continued to see "heightened uncertainty" around the size, timing and composition of fiscal and other government policies and their impact on the economy.
"They thought some time would likely be required for the outlook to become clearer," the minutes said. So that is another argument for not raising in March.
"Maybe they feel they will have details on fiscal and trade policy by the May-June time frame," said Michael Gapen, chief U.S. economist at Barclays Plc in New York.
Business Reaction
Business contacts, who regional Fed bank presidents routinely canvas between meetings, also presented a mixed reaction to the new administration's plans. The minutes said that "some of their contacts had already increased their planned capital expenditures." Others, while optimistic, were waiting for more clarity, while some industries were bracing for possible adverse impacts from some proposals.
The reason why the committee may not take that step in March is a simple risk calculation. Moving too early and snuffing out the economy's momentum is still viewed by the committee as a higher risk than inflation. But if the data continues to report in as strong as it has, patience will no longer be a virtue.
"We are close to if not at full employment. We are close to and approaching 2 percent inflation," said Guy Lebas, chief fixed-income strategist at Janney Montgomery Scott LLC in Philadelphia, speaking about the Fed's two goals. "We should be close to normalizing interest rates."