EPA Chief Battled Agency Armed With Industry Talking Points
Jennifer A. Dlouhy, Todd Shields and Andrew M Harris
Advocacy group released 7,564 pages of internal documents

E-mails show Pruitt siding with industry on fracking, climate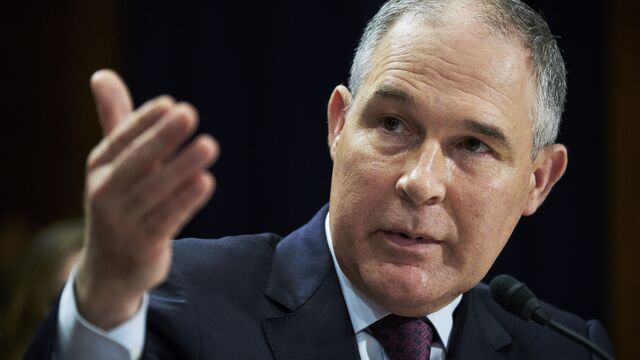 After linking arms with oil companies, refiners and utilities to coordinate attacks on environmental regulations, newly installed EPA Administrator Scott Pruitt is now positioned to reflect their views on an array of issues, from climate change to fracking.
Thousands of pages of e-mails released Wednesday show that Pruitt's staff collaborated with energy companies, trade associations and groups linked to the billionaire brothers Charles and David Koch during his time as Oklahoma attorney general. The documents, released under court order to the Center for Media and Democracy follow a pitched battle over whether Pruitt should lead the Environmental Protection Agency, culminating in a narrow 52-46 vote Friday to confirm him.
Pruitt's work at the EPA could be complicated by the newly released e-mails. They provide rhetorical fodder for Pruitt's foes, who will remind the public of the administrator's past interaction with refiners, utilities and oil companies every time he moves to relax the regulations that govern them.
EPA Chief Woos Staff Skeptical of Tilt to Pro-Energy Mission
"Everyone sees now where his allegiance lies, who he has been in bed with, who he responds to, who calls him their friend," David Doniger, a senior attorney with the Natural Resources Defense Council, said in a telephone interview. "When he makes decisions to trash climate rules or to question climate science or to question the mercury rules or whatever he may be planning, everyone needs to remember his pedigree."
The documents also could spill over into litigation. They "will compel judges to take a closer look at his actions," said Pat Gallagher, director of the Sierra Club's Environmental Law Program. "Where they may trust an EPA administrator who doesn't have the same kind of background, there may be more scrutiny paid when you're talking about somebody like Pruitt."
But legal analysts say it may be more a problem of perception. 
"I don't think there are any legal or ethical problems with these revelations. It's just political," University of Virginia law professor Saikrishna Prakash said in a phone interview. "But, obviously, political problems matter."
Overall, the 7,564 pages of e-mails the center published online reveal a chummy relationship between Pruitt and an array of companies, including oil and gas producers active in Oklahoma. Officials at Devon Energy Corp., Koch Industries Inc., the American Fuel and Petrochemical Manufacturers and others at times counseled Pruitt on the best strategies for combating environmental regulations meant to protect the air and water -- rules he is now tasked with overseeing.
Talking Points
Correspondence providing talking points and discussing coming meetings are sprinkled with personal touches. For instance, Pruitt's chief of staff asked Devon's head of government affairs for help getting her family into a restaurant near the top of the company's headquarters, the tallest building in Oklahoma City; the Devon staffer offered to get them to the floor above it instead. Other messages invited Pruitt staff to happy hours with an employee of the Oklahoma-based natural gas transporters Access Midstream Partners LP, which was later acquired by pipeline operator Williams Cos.
"The e-mails demonstrate what we already assumed, which was that Pruitt and his staff have a very cozy relationship with the industries he's now going to be regulating," said Nick Surgey, the center's research director. While the documents in some cases raise more questions than they answer, Surgey said they provide "context for the decisions that are going to get made over the next weeks and months by Scott Pruitt."
Industry Expertise
Devon spokesman John Porretto cast the Oklahoma City-based oil and gas producer's interactions with Pruitt as part of its normal role providing information and expertise for decision-makers.
"Our engagement with Scott Pruitt as attorney general of Oklahoma is consistent – and proportionate – with our commitment to engage in conversations with policymakers on a broad range of matters that promote jobs, economic growth and a robust domestic energy sector," Porretto said in an e-mailed statement. "We have a clear obligation to our shareholders and others to be involved in these discussions related to job growth, economic growth and domestic energy."
Lobbyists and lawyers armed Pruitt and his staff with material to buttress his fight against some rules. For instance, Roderick Hastie, government relations director at the law firm Hunton & Williams, offered guidance on how Pruitt's staff might encourage other states to comment on EPA regulations governing malfunctions and shutdowns at industrial sites in April 2013, forwarding a document with "some talking points you might find useful to cut and paste."
'Severe Harm'
In a separate 2013 exchange, a representative of the American Fuel and Petrochemical Manufacturers group sent a Pruitt aide a template "you may find helpful" in drafting a petition challenging biofuel quotas set by the EPA. "We think it would be most effective for Oklahoma to file a separate waiver petition that emphasizes 'severe environmental harm,' as this argument is more credible coming from a state," another AFPM representative told Pruitt.
Spokesmen for the EPA and the refiners group didn't respond to requests for comment. 
Pruitt has maintained that environmental regulation and energy development can go hand in hand -- most recently in an address to employees at the EPA's Washington headquarters.
"We as an agency and we as a nation can be both pro-energy and jobs and we can be pro-environment, and we don't have to choose between the two," Pruitt said Tuesday.
Fossil Fuel
Ken Cook, head of the Environmental Working Group, said Pruitt's past interactions with energy companies show that equation will be weighted on the side of fossil fuel.
"When, on his first day at the agency, Scott Pruitt told EPA staff that energy development needn't conflict with environmental protection, you have to believe he means the minimal protection for air and water that Koch, Devon Energy and other fossil fuel interests always have in mind," Cook said in a news release.
An Oklahoma judge ordered the release of the e-mails on Feb. 16, one day before the Senate vote to confirm Pruitt. Environmental advocates and Senate Democrats had made an unsuccessful bid to postpone the vote until after their release.
Confirmation Fight
Republicans rebuffed the request for a 10-day delay, characterizing the move as a stalling tactic. Asked why he would not allow more time, Senate Majority Leader Mitch McConnell, a Republican from Kentucky, responded: "Because I choose not to."
"Seeing industry representatives fawning over Pruitt's efforts to attack the EPA, it's clear that this information should have been closely examined by the Senate as we considered his nomination to run that agency," said Democratic Senator Sheldon Whitehouse of Rhode Island. "These e-mails, which Scott Pruitt wanted to keep from public view, show an elected official cultivating a cozy relationship with regulated industries as he helped them through his official work."
The released documents are confined to communications Pruitt's staff had with dozens of law firms, energy companies and trade groups specifically named by the Center for Media and Democracy in its original open records requests. As a result, they do not capture correspondence Pruitt and his staff may have had with environmental groups, advocacy organizations or other stakeholders.
Some of the interactions were previously detailed in 2014 by the New York Times, which reported that after Devon donated to Pruitt, he sent a letter largely drafted by one of the company's lawyers to the EPA challenging its move to regulate methane emissions.
The newly released records shed new details on Pruitt and Devon's relationship. In 2013, Devon's then-executive vice president for public affairs, William Whitsitt, wrote to propose Pruitt send a letter to federal officials about tighter rules for the oil-and-gas development technique known as hydraulic fracturing. Whitsitt wrote that his proposal was a "follow-up on my conversations with Attorney General Pruitt." He got a reply 18 minutes later.
"Thanks Bill -- we will take a look and start working on a draft," wrote Pruitt's chief of staff, Melissa Houston.
Before it's here, it's on the Bloomberg Terminal.
LEARN MORE