technology
Apple to Open Steve Jobs-Inspired Ring-Shaped Campus in April
By
More than 12,000 employees will move to the new building

Auditorium for future company events named after Jobs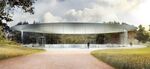 Apple Inc. co-founder Steve Jobs' last public event in 2011 was a city council meeting in Cupertino, California, where he presented plans for a sprawling new campus with a spaceship-shaped building and tree-filled park. Apple announced Wednesday that it will begin moving employees into the 2.9 million-square-foot facility in April.
Apple said a new 1,000-seat auditorium at the facility will be named the Steve Jobs Theater in honor of its co-founder, who died four months after his city council presentation and would have turned 62 on Feb. 24.
As with many large-scale construction projects, Apple faced budget overruns and delays. The building cost an estimated $5 billion (though Apple has never said how much), and the opening date had initially been set for 2015.
The first employees will begin moving into what the company has named Apple Park in April, with others following over six further months. Construction of the buildings and surrounding park land is slated to continue through summer, Apple said Wednesday.
Jobs said in 2011 that he wanted the campus to be the "best office building in the world." He said he hoped architecture students would come to visit it for inspiration. The building's outside walls are made entirely of what Apple says are the world's largest panels of curved glass.
"Steve's vision for Apple stretched far beyond his time with us," Apple Chief Executive Officer Tim Cook said in a statement. "He intended Apple Park to be the home of innovation for generations to come."
Before it's here, it's on the Bloomberg Terminal.
LEARN MORE