Miners Enjoy Fastest Comeback in a Decade on Surging Profits
By and
BHP boosts dividend and plans $2.5 billion bond buyback

Anglo may keep South African assets, including Kumba Iron Ore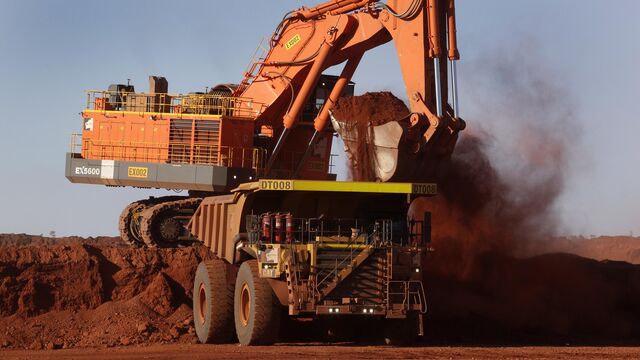 The speed of the mining recovery is faster than anything that's been seen in the past decade.
BHP Billiton Ltd. and Anglo American Plc on Tuesday reported the biggest profit increases since at least 2007 on deep cost cuts and rebounding metal prices. The earnings exceeded analysts estimates and highlight mining's dramatic reversal of fortune in the past year.
The industry is coming back from a crisis that forced some of the top metal producers to sell assets, cut costs and rein in spending after years of over-investment. Metal prices have largely recovered from the downturn and several of the biggest mines are profitable, instead of bleeding cash.
"You can see how cash generative this business can be," Paul Gait, an analyst at Sanford C. Bernstein Ltd. in London, said by phone. "I think 2017 is a year of strategic re-positioning and rethinking."

BHP, the world's biggest mining company, boosted its dividend more than analysts expected and said it will carry out a bond buyback of $2.5 billion. Underlying profit rose to $3.24 billion in the six months through Dec. 31, the highest in two years and a more than 600 percent increase from a year earlier.
Read more about BHP's first-half profit report and dividend plans
Anglo canceled plans to sell several assets after higher earnings eased pressure on the company to reduce debt. Nickel mines in Brazil and coking coal assets in Australia will no longer be sold, Chief Executive Officer Mark Cutifani said in an interview on Bloomberg Television. The company is "happy to stick with" its iron ore and export coal mines in South Africa, he said.
The company aims to return to an investment-grade credit rating this year and pay a dividend in 2018. Profit more than doubled last year to $1.72 a share.
"We got there. We delivered it. We do not need to sell assets to address the balance sheet issues," Cutifani said on a conference call. "If any assets go from here, it will be on the basis of a portfolio adjustment."
Click here for more details on Anglo's earnings results and strategy
BHP shares were little changed and Anglo slipped 1.5 percent to 1,340 pence as of 1:18 p.m. in London. In the past year, BHP's stock is up 90 percent and Anglo has tripled.

Still, commodities prices face near-term challenges, with some materials trading above the company's forecasts of appropriate long-term prices, said Chief Executive Officer Andrew Mackenzie.
Longer term, the economy in China, the top commodities consumer, will continue to rebalance from industry to services, shifting the center of growth from investment and exports toward consumption, the company said.
Copper production guidance for the 12 months to June 30 is under review as a result of a strike at the Escondida mine in Chile, BHP said. The producer is seeking a resolution in coming days, Mackenzie told reporters.
Before it's here, it's on the Bloomberg Terminal.
LEARN MORE