markets
Hedge Funds Continue to Chase the Herd With Record Momentum Bets
By
Managers bet on past winners the most in at least seven years

Momentum-value correlation level also historically high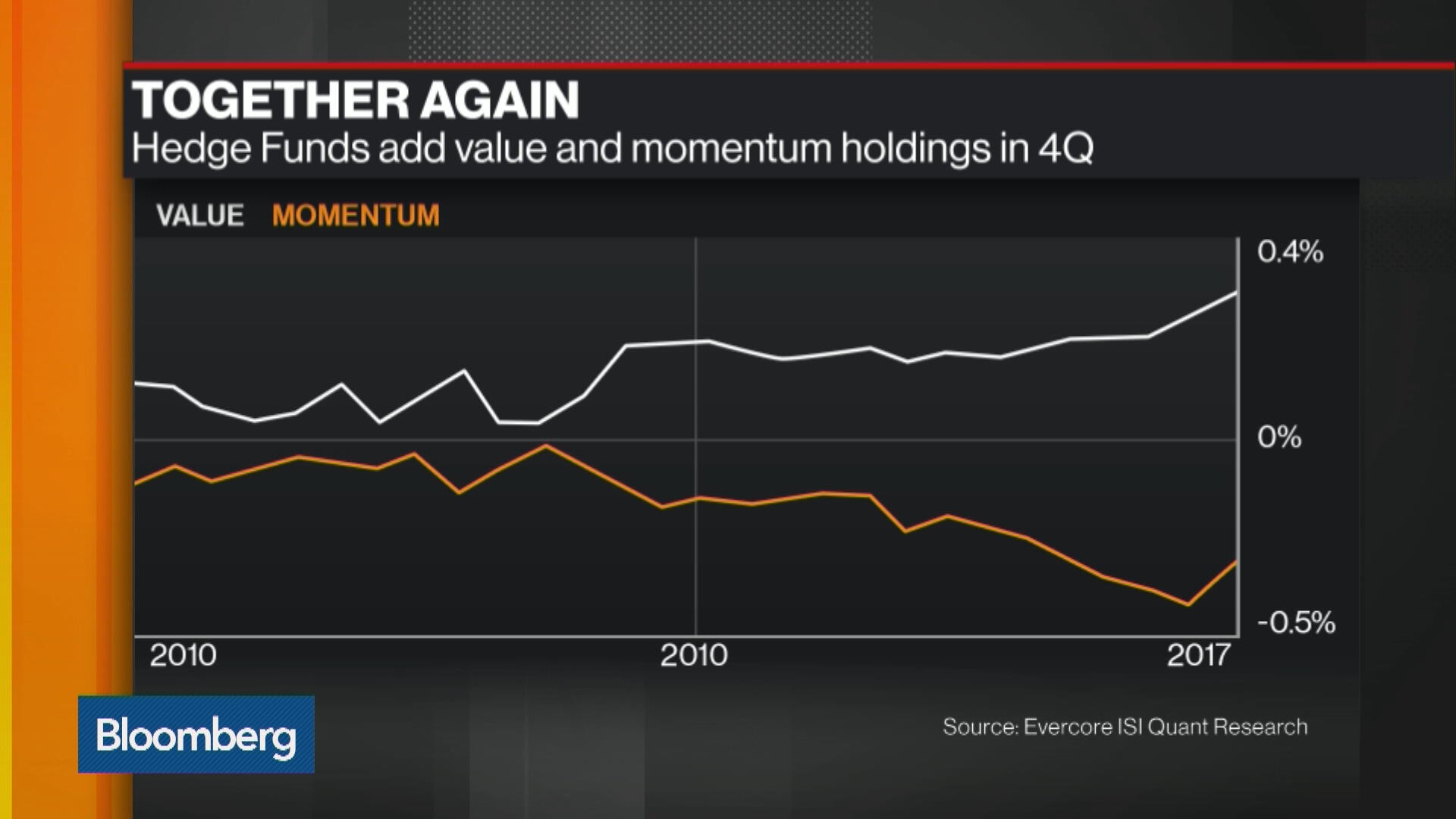 Hedge funds can't get enough of momentum -- even if it means embracing an investing strategy they hate.
Loosely defined as betting on shares that went up the fastest over the preceding nine-to-12 months, hedge funds are the most reliant on momentum strategies since at least 2010, according to an Evercore ISI analysis of 13F filings with the Securities and Exchange Commission. Meanwhile, they've reduced their bearish bet on value stocks, which are priced at deep discounts to earnings and assets, for the first time in nine quarters, the study shows.
Investors rarely take on momentum and value positions at the same time, which is what's happening now. 

The move is curious because by November last year the gap in hedge fund exposure between momentum and value was the widest it had been in six years. This generally makes sense since the strategies respond to different impulses. Betting on momentum means going with the crowd that has been right for much of the bull market. But value stocks are considered cheap because the market passed them by.
"Structurally, you'll find that hedge funds are long momentum-type securities," said Abhra Banerji, director of quantitative research at Evercore ISI. "If they increased momentum, you almost had to go down in value exposure, but this time that's not the case."
The fact that both are now rising signals another strange side effect of a U.S. stock market that continues to catapult to new records. An improving economic outlook and promised deregulation from President Donald Trump's election in November spurred the best month for value stocks since 2009. As investors warm up to cheap stocks, value and momentum have become positively correlated for the first time in four years, data compiled by Evercore ISI show.
Follow The Herd
Large speculators aren't the only ones who've caught the value bug. Since the election, investors have poured $16 billion into value exchange-traded funds, which surpassed dividend ETFs to become the most popular smart beta category, data from Bloomberg Intelligence show. Merrill Lynch Wealth Management, for example, earlier this month made a nearly $1 billion rotation from a growth ETF into value, according to people familiar with the matter.
On the flip-side, the momentum pile-on coincides with a measure of crowding among hedge fund holdings rising to its highest level on record, according to a Novus Partners Inc. study. This congestion raises the threat level among some security industry professionals, as a herd mentality can lead to simultaneous selling, which often exacerbates downturns.
For now, it appears that following the herd is working. Equity long-short managers, who use long-short strategies to try to minimize the impact of market moves or add leverage to their positions by pairing trades, posted their best start to a year since 2013, data from Credit Suisse show. How'd they do this? By simply giving into the market rally and throwing away short bets to hit a record bullish level.

To be sure, hedge funds are still underweight value stocks and haven't been neutral on the strategy since at least 2010, according to Evercore ISI. If history's any guide, the value-momentum correlation should peak around its current level, data from Evercore ISI show. So far in 2017, a market-neutral value strategy has lost 0.8 percent, data compiled by Bloomberg show.
"Purely from a numbers standpoint, when the correlation decreases, value tends to underperform," said Banerji. "It's not a given, but traditionally this has been an inflection point."
Before it's here, it's on the Bloomberg Terminal.
LEARN MORE