Brexit Hotbed Paints a New Future for British Politics
The Labour Party has held Stoke and Copeland for decades, but snap elections this week cast that future in doubt.
By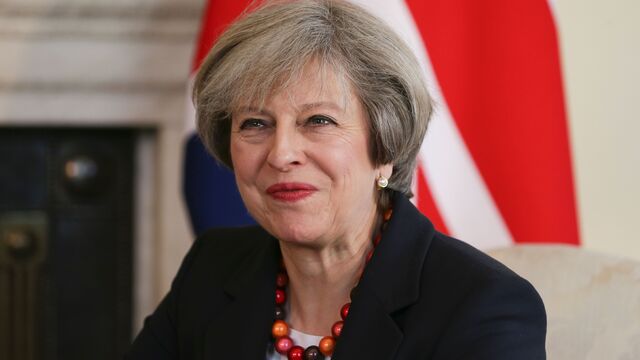 The grand Victorian pavilion in a landscaped park in downtown Stoke-on-Trent is a remnant of an English city in its prime, an industrial powerhouse hauling coal and making ceramics for the world.
The boarded-up windows, rust and peeling paint are a reminder of what such places face today as they try to reconcile a prosperous past with an uncertain future as Britain negotiates its way out of the European Union.
After overwhelmingly voting to leave the EU in last year's referendum, an election this week could underscore Stoke's role in redrawing the British political map. In normal times, it would be a shoo-in for the Labour Party in a blue-collar stronghold it's held since 1950. In the world of Brexit and Donald Trump, populism and anti-immigration loom large. The U.K. Independence Party, one of the engines behind the Brexit vote, is fielding leader Paul Nuttall and betting odds suggest the result will be tight.
"The EU referendum, the American presidential election and the Stoke-on-Trent by-election, they're three very important and connected events," Alan Johnson, a cabinet minister in the Labour government ousted in 2010, told students on a visit to Stoke on Feb. 9. As politicians incite fears of outsiders and embrace protectionism "you will be the first people in Britain to give some sign of where that's going to take us," he said.

The Feb. 23 ballot in the traditional Midlands home of Britain's pottery and ceramics manufacturing follows the resignation of Labour incumbent Tristram Hunt. The historian, who had been tipped as a future leader of the party, took a job running the Victoria & Albert Museum of decorative arts and design about 150 miles (240 kilometers) away in one of London's wealthiest districts.
UKIP's pitch to the Stoke Central electorate is that Nuttall can pursue his fight for tougher immigration controls. Labour is pledging to protect local people as Prime Minister Theresa May prepares Britain's divorce from the EU. Bookmakers make Labour favorite to hang on, though by a reduced margin.
 It coincides with a vote in the pro-Brexit region of Cumbria in the northwest, also after a Labour lawmaker quit for a job outside politics, this time in the nuclear industry. Like Hunt, Jamie Reed was a critic of Labour leader Jeremy Corbyn. May's Conservatives are aiming to win and become the first governing party since the 1980s to take a district between general elections. The betting odds suggest they will do it.

The elections are a "particularly painful test'' for Labour in its own heartlands, said Matt Cole, who teaches politics at the University of Birmingham in central England. "A defeat in both would be catastrophic, and that wouldn't be too strong a word,'' he said. "A defeat in one of them would be a severe blow.''
Echoing other parts of post-industrial England, Stoke defied Labour's official call to back the campaign to remain in the EU. Sixty-nine percent of the city's voters chose Brexit and its message of controlling immigration and repatriating powers while also restoring Britain as a global trading nation.
It's not difficult to see why people would hark back to a by-gone era. The city and its surroundings, known as "the Potteries," produced everything from Twyford toilets and washbasins to Royal Doulton and Wedgwood fine china.
The ceramics industry employed 50,000 a generation ago and now it's down to 7,000, according to the local council. Now thrift stores, pawnbrokers and empty units occupy what was once prime real estate and the local newspaper carries stories about growing problems with homelessness and drug abuse.

Halting immigration and a "hard" break from the EU resonated with car mechanic Chris Millward, 29, who backed the far-right British National Party last time he voted. He lives in an area of the city where the BNP gained a foothold 10 years ago and said he will probably vote UKIP this week.
"None of them have a got a clue what they're doing," Millward said. "Labour and all that, they don't care about anybody."
The disconnection of mainstream politicians from local communities has changed the way people vote, according to Tom Brennan, 83, a former Labour lord mayor of Stoke who lost his seat on the council to the BNP.
The Labour Party was ingrained in local culture when he grew up, gaining the community's support in the fight against scarlet fever, diphtheria and polio killing and crippling workers, Brennan said. The people of Stoke "lived in the factory" with their extended families, he said, and the decline of the area is drawing voters elsewhere.
Labour now needs to convince working class people that it will stick up for them as the Brexit negotiations continue, Brennan said.
"Politics isn't just for politicians, it's for people, and if they don't believe it belongs to them they lose their faith," he said in the dining room of his home. "The danger is that when we get through the final episodes, the guarantees for working people won't be there anymore. That's what the Labour Party has got to be fighting for."

The stakes couldn't be higher: For UKIP, it's the chance to win only its second seat in parliament and for Labour a fight to avoid humiliation.
In an interview after taking questions from a group of college students, Labour candidate Gareth Snell said he represented the "make-Brexit-work party." UKIP meanwhile is exploiting his vote to stay in the EU in last June's referendum, with Nuttall calling Stoke "the capital city of Brexit" and promising in his election leaflet to "finish the job."
While Nuttall got into trouble during the campaign for his lack of local knowledge -- he couldn't name the six towns that make up the city -- Stoke makes for a willing audience for his pledges.
"I voted for Brexit, I work in manufacturing and I've seen it go overseas," said Simon Jones, 52, who works for a cable maker and said he will probably back UKIP. "I just want fairness, for people to go to work, put a shift in, contribute to the community."
Before it's here, it's on the Bloomberg Terminal.
LEARN MORE