U.K. Will Need Low-Skilled EU Migrants After Brexit, Davis Says
Ott Ummelas and Tim Ross
Says it will take years to get U.K. workers to take hotel jobs

Brexit secretary visits Estonia ahead of EU exit negotiations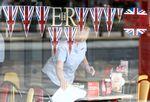 The U.K. won't suddenly shut the door on low-skilled migrants from the European Union who work in restaurants and hotels, Brexit Secretary David Davis said, in comments that risk a political clash over migration policy when Britain leaves the bloc.
During a visit to Estonia, Davis said it will take "years and years" to persuade British workers to do jobs in the hospitality industry or agriculture that are currently carried out by EU migrants, arguing the economy needs continued immigration to maintain its success. 
"In the hospitality sector, hotels and restaurants, in the social-care sector, working in agriculture, it will take time -- it will be years and years before we get British citizens to do those jobs," Davis told reporters in Tallinn on Monday. "Don't expect just because we're changing who makes the decision on the policy, the door will suddenly shut: it won't."
Davis's comments risk disappointing Brexit supporters who campaigned to stop low-skilled migrants moving to Britain from the EU, arguing they put pressure on public services such as schools and hospitals and take jobs away from British workers. Cutting immigrant numbers was also a key promise Prime Minister Theresa May's Conservative Party made to voters before the 2015 general election, which it won.
Davis is traveling to EU capitals for meetings with his counterparts as May's government seeks to win allies ahead of formal negotiations on the terms of Britain's exit, due to be triggered next month. A key issue to be resolved is the fate of Europeans living in the U.K. under the EU's freedom of movement rights, amid concerns they could be required to leave the country after Brexit.
Davis sought to reassure his Estonian audience that the U.K. and the EU will reach a "very fast" agreement on guaranteeing mutual residency rights for their citizens living in each other's countries. And he suggested that even after Brexit, the government would choose to keep migration from EU countries such as Estonia, at least for a period.
"We're a successful economy, largely or partly at least because we have clever people, talented people come to Britain," Davis said, speaking alongside Estonian Deputy EU Affairs Minister Matti Maasikas. "Even on the wider area, where we've got less well-paid people who have come to live and work in Britain, that will take time."
Before it's here, it's on the Bloomberg Terminal.
LEARN MORE