Singapore's 2017 Budget in Five Charts Shows Growth Challenge
By and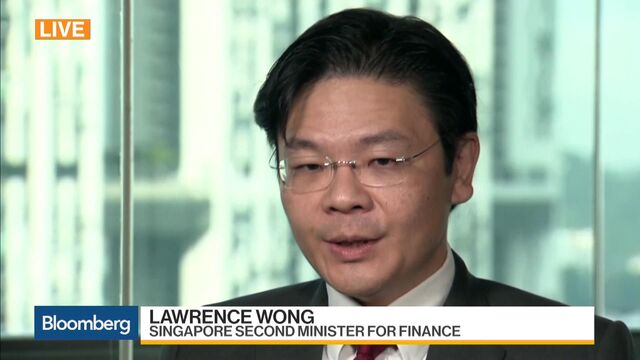 Singapore's Finance Minister Heng Swee Keat outlined plans in his budget on Monday to sustain growth above 2 percent in the face of global trade risks and an aging workforce.
Here's a snapshot of the budget in five charts:
Revenue Outlook
The government announced a mix of tax measures that will affect its revenue going forward. It expanded corporate tax rebates to help spur business investment and will give personal-income tax rebates. A carbon tax on emission of greenhouse gases will be imposed from 2019. Revenue will increase to S$69.5 billion in the next fiscal year beginning April 1 from S$68.7 billion in the current year.

Spending Plans
The government will bring forward S$700 million of spending on public-sector projects in the next two fiscal years and increase allocations on research and productivity funds. Annual healthcare spending more than doubled to about S$10 billion in the fiscal year ending March from just five years ago, due to enhanced subsidies and expanded healthcare services, Heng said. The city-state's public transport infrastructure is expected to cost the government more than S$20 billion over the next five years. Total spending is set to rise 5.2 percent to S$75 billion in the coming fiscal year.

Fiscal Surplus
The government adopts a conservative fiscal approach since it's mandated to run a balanced budget over its term of office. The fiscal surplus is projected to reach S$5.2 billion in the year ending March, higher than the S$3.45 billion initially estimated. Heng said the surplus will narrow to S$1.9 billion in the coming fiscal year, or 0.4 percent of gross domestic product.

Business Investment
Singapore is anticipating little growth in fixed-asset investments this year after commitments fell to the lowest level since at least 2007. Capital investment in facilities and equipment planned over the next five years stood at S$9.4 billion last year and should stabilize at about S$8 billion to S$10 billion in coming years, according to the Economic Development Board. The government is taking steps to spur business investment, while also taking up some of the slack.

Labor Productivity
Singapore has had little success in improving productivity in recent years, despite steps taken to move workers from low-paying jobs to more productive industries, according to data from Maybank Kim Eng Research Ltd. The budget outlined a series of measures, including improving skills development and helping small businesses adopt digital capabilities, to help spur productivity.

Before it's here, it's on the Bloomberg Terminal.
LEARN MORE