Qualcomm Says Samsung Scandal Weakens Korea Antitrust Ruling
By
U.S. company is fighting record fine imposed by South Korea

Chipmaker highlights influence on agency by rival Samsung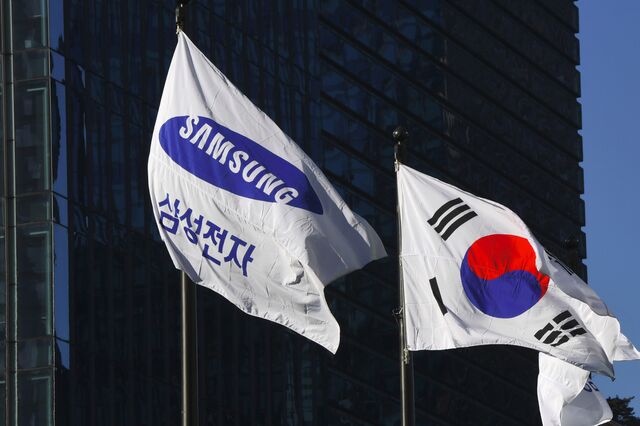 The corruption scandal rocking South Korea has given Qualcomm Inc. another way to challenge a big antitrust fine threatening its most profitable business.
Jay Y. Lee, heir to the top job at Samsung Group, was arrested last week on allegations he was involved in paying billions of won to a friend of South Korean President Park Geun-hye, in exchange for government support of his succession. Prosecutors are also investigating Samsung's influence on the Korea Fair Trade Commission and have questioned Kim Hak-hyun, who until January was vice chairman of the antitrust watchdog.
Qualcomm highlighted that Kim also signed off on a record 1.03 trillion won ($898 million) fine against the U.S. chipmaker in December for violating antitrust laws. Samsung Electronics Co., a major customer of Qualcomm, stands to benefit greatly from the decision by cutting the fees it pays the U.S. company.
"The incorrect decision is the product of an unfair process that we believe was heavily influenced by commercial interests," Qualcomm General Counsel Don Rosenberg said. "The recent reports about the special prosecutor's investigation into Samsung's connection to the former Vice Chairman of the KFTC, who oversaw our case, has increased our level of concern."
The ability of Qualcomm's lawyers to tie broader alleged influence peddling to its antitrust case, may determine its ability to avoid a damaging blow to the way it does business.
Shin Yeong-ho, a spokesman for the KFTC, said the penalty imposed on Qualcomm has nothing to do with the recent scandal. The U.S. company was fined for violating antitrust laws in South Korea, he said. Contact details for Kim, who left the agency, weren't immediately available.
Samsung, based in Suwon, South Korea, denied that that it received any favors from the agency. Samsung Electronics was one of the many multinational corporations that responded to the KFTC's questionnaire, which was part of the regulator's investigation, it said. Its shares stood largely unchanged in early trade Tuesday.
In addition to the fine, the KFTC demanded changes to Qualcomm's licensing practices. The San Diego-based company makes most of its money from selling the right to use technology that's fundamental to all modern phone systems. Samsung Electronics, as the world's largest phone maker, is one of the biggest payers of licensing fees to the U.S. company.
Qualcomm -- the subject of investigations on three continents and a lawsuit from its largest customer Apple Inc. -- argues that customers and competitors are influencing regulators to try to secure better licensing terms.
In the South Korean antitrust case, the KFTC charged Qualcomm with several infractions, including coercing some customers into signing patent license contracts when selling its chips used in mobile phones in the country, and not fairly paying to use patents held by phone makers.
Qualcomm complained that rivals and customers, including Samsung, Intel Corp. and Apple, had free rein to testify against the company, while it wasn't allowed to question their testimony or review evidence against it. The KFTC ruling doesn't go into effect immediately and Qualcomm plans to seek a stay while it appeals. Representatives from Apple and Intel declined comment.
In July Qualcomm complained in a letter, not previously made public, to the agency that a key Samsung witness had organized a conference, attended by the KFTC's Kim, where confidential details of the case were discussed and where, in effect, it was tried in absentia.
The decision means Samsung and LG Electronics Inc. could pay lower rates to Qualcomm. When Qualcomm settled a similar investigation by Chinese regulators last year, it accepted lower payments on phones sold in that country.
— With assistance by Jungah Lee
Before it's here, it's on the Bloomberg Terminal.
LEARN MORE