Japan's Trade Deficit Widens on Drop in Car Exports, Oil Imports
By
Sales of vehicles fell to both the U.S. and Europe in January

Energy costs rose as OPEC curbed output and coal prices rose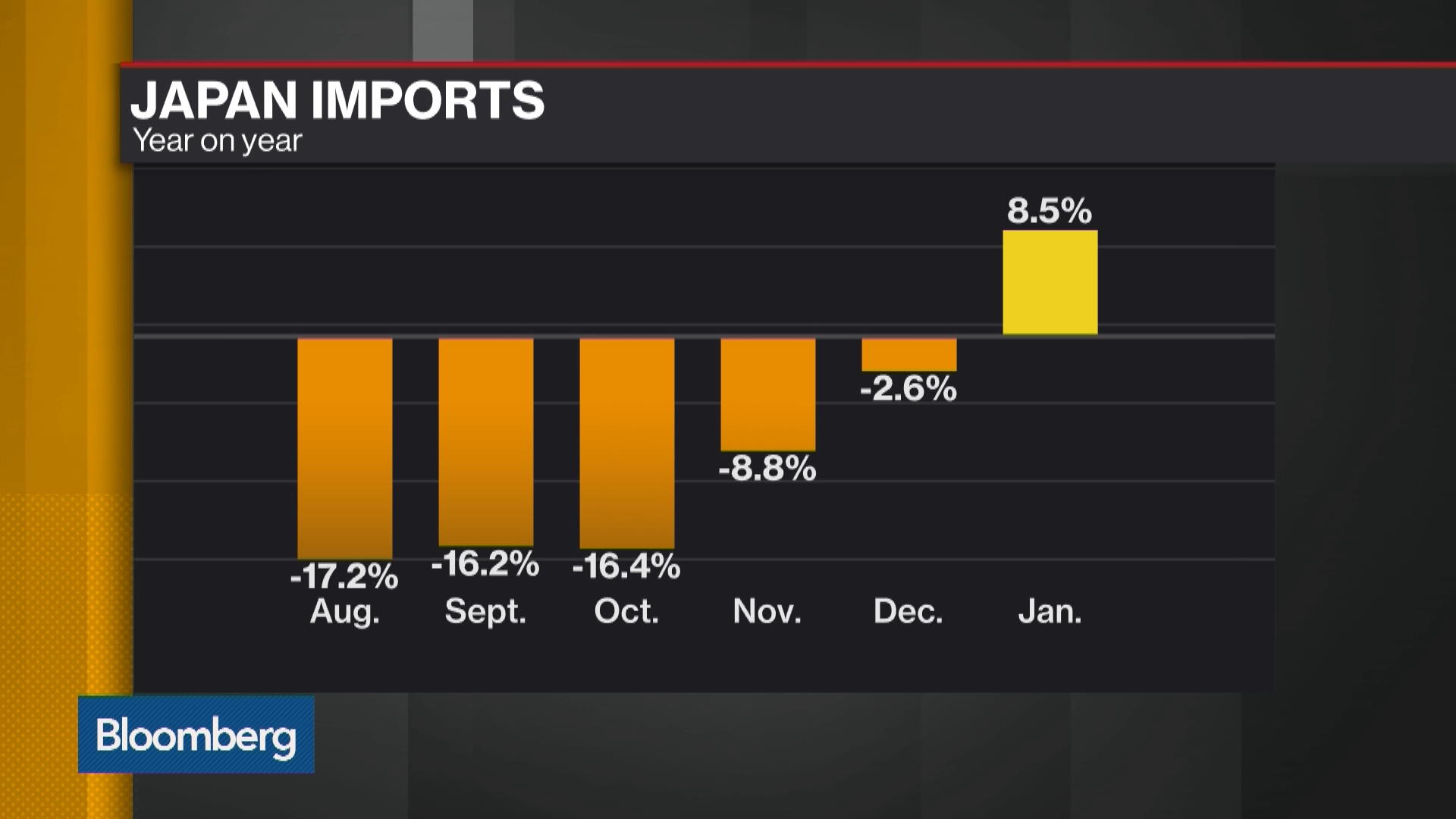 Japan posted a bigger-than-forecast trade deficit in January as auto exports declined and energy import costs increased.
Economists cautioned against reading the single month's figures negatively, noting that global demand should support Japanese exports this year.
Key Numbers
Exports rose 1.3 percent from a year earlier (versus +5 percent estimate).
Imports climbed for the first time in two years, by 8.5 percent (versus +4.8 percent estimate).
Trade deficit for January was 1.1 trillion yen ($9.6 billion), compared with expectations for a deficit of about 625.9 billion yen. 

Big Picture
After snapping a sustained slump in December, any strength in exports is a welcome boost to Prime Minister Shinzo Abe's efforts to spur economic growth, and a buttress to corporate profits ahead of the annual spring wage negotiations. Higher commodity prices stemming from OPEC's decision to cut production last year increase Japan's import bill, but should help the central bank in its campaign to spur inflation.
A 6.6 percent drop in exports to the U.S. reflected a slide in car sales that underscores the preference of many American consumers for SUVs relative to Japanese sedans, according to the government in Tokyo. This may assist Finance Minister Taro Aso when he gets into bilateral talks on trade and the economy in April with Vice President Mike Pence. The threat of U.S. protectionism remains a large risk for Japan, even after the warm welcome Abe received from President Donald Trump earlier this month.
Economist Takeaways
The slowdown in exports seen in January is just temporary and there's no change to the view that Japan's economy is driven by external demand while domestic forces remain weak, according to Yuichi Kodama, chief economist at Meiji Yasuda Life Insurance Co. in Tokyo.
"Exports are still on the recovery track," said Kodama. "The global economy is steadily recovering."
Bob Baur, the chief global economist at Principal Global Investors, said on Bloomberg TV that he "wouldn't get too excited about any one-month number."
"Exports were really good in the fourth quarter," said Baur. "Imports are better than people think, and that means somebody is buying, which I think is positive in the longer term for Japan."
The Details
Exports to the U.S. fell 6.6 percent from a year earlier.
Shipments to the EU decreased 5.6 percent.
Sales to China, Japan's largest trading partner, climbed 3.1 percent.
The value of exports of motor vehicle fell 6.7 percent.
Crude oil imports jumped almost 36 percent by value, contributing 2.8 percent of the rise in total imports.
The January data included for the first time imported shale gas from the U.S.
Chinese coal imports pushed up prices for the commodity.
Export volumes declined 0.3 percent.
Note: Japan tends to have a trade deficit in January due to the lunar new year celebrations in some of Japan's biggest trading partners, such as China and South Korea.
Before it's here, it's on the Bloomberg Terminal.
LEARN MORE