Hedge Fund Oasis Pushes for a Better Panasonic-PanaHome Deal
By and
This is big test of Japan's governance code: Oasis's Fischer

Fischer says Panasonic is underpaying for listed unit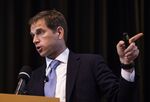 Oasis Management Co.'s Seth Fischer increased his pressure on Panasonic Corp. to sweeten its offer for listed subsidiary PanaHome Corp., calling the transaction a test case of whether Japan's corporate governance overhaul is working.
Oasis will ask the courts to rule on whether the price is fair if shareholders approve the deal on current terms, Fischer said in an interview in Tokyo last week. The Hong Kong-based fund, PanaHome's second-largest shareholder after Panasonic, says the offer undervalues the home builder by more than 50 percent. Fischer's calling for a bigger share-exchange ratio or for PanaHome to pay out its cash as a special dividend.
"They're basically taking our holdings at a cheap price," said Fischer, Oasis's chief investment officer. "It's just not right."
Oasis will petition for appraisal of whether the price is fair if Panasonic gets the two-thirds of votes it needs to make PanaHome a fully owned subsidiary, Fischer said. He expects the share-swap proposal, which was announced in December and faces a vote in June, to be approved because Panasonic owns 54 percent of PanaHome. Fischer says he's setting his sights on most minority shareholders rejecting the deal, which would bolster any case in the courts.
"If you have a majority of the minority, then they won't have a defense that this is a fair price," Fischer said.
Fair Deal
Panasonic, meanwhile, says the terms don't disadvantage any PanaHome stock owners.
"The deal is fair to PanaHome's shareholders in terms of both contents and process," Kyoko Ishii, a spokeswoman for Panasonic, said by phone.
PanaHome says it took steps to avoid any conflict of interest between the controlling and minority shareholders, including seeking guidance from legal advisers, getting a third-party valuation and setting up an independent committee.
"We think the share exchange is appropriate for all shareholders, including minority shareholders," Katsuhiko Izutsu, a spokesman for PanaHome, said in an e-mailed statement. "PanaHome plans to make additional disclosure and seek the understanding of all shareholders."
Shareholder Website
Under Japanese rules for buying all shares of a listed subsidiary through a share exchange, minority shareholders have the right to ask the courts for an adjudication on whether the exchange ratio is fair.
Fischer's Oasis started a website last week to lobby other investors with what it sees as the problems with the takeover. They begin, according to Fischer, with PanaHome's 97.5 billion yen ($862 million) in cash and deposits, including 74 billion yen that sits at Panasonic.
PanaHome should have invested this money to grow its business or returned it to all shareholders, rather than just benefiting the parent company, according to Fischer. Not doing so depressed PanaHome's share price, making it cheaper for Panasonic to buy, and goes against the tenets of the corporate governance code Japan introduced in June 2015, he says.
"PanaHome has cash, runs a housing business and has real estate holdings," says Masahiro Mochizuki, an analyst at Credit Suisse AG in Tokyo. "In valuing companies like this, there's a problem with ignoring the value of assets on the balance sheet when deciding the share exchange ratio," he said. In transactions between listed parents and subsidiaries, "you have to care most about transparency and fairness," he said.
Company Letters
Oasis sent letters to Panasonic and PanaHome in September about the use of cash, Fischer says. Then, in December, Panasonic announced it would purchase all of PanaHome. It's giving 0.8 of one of its shares for every share of PanaHome, which at current levels represents a price of 1,002 yen per share, a 4.6 percent discount to PanaHome's closing price of 1,050 per share on Friday.
Panasonic stock fell 0.4 percent in Monday trading in Tokyo, while PanaHome added 0.7 percent.
Fischer says Panasonic should revise the share-swap ratio, or PanaHome should pay out the cash. According to him, a fair value would be 1,617 yen per share. If keeping the current share ratio, PanaHome should pay out a special cash dividend of 670 yen per share, he says. Oasis has also offered to buy PanaHome for 1,050 yen a share, according to Fischer, which is higher than Panasonic's price.
"If they're valuing the cash at cash value, which any normal person would do, then the value they're attributing to the core business seems low," said Nicholas Benes, the Tokyo-based head of the Board Director Training Institute of Japan. "In terms of process, there's no reason to believe that this ratio is appropriate."
Exchange Ratio
Oasis questions how the companies and their investment banks arrived at the share-swap ratio. (Nomura Securities Co. provided a third-party valuation for Panasonic, while SMBC Nikko Securities Inc. did so for PanaHome.) The comparable companies used by SMBC Nikko include smaller firms that aren't true peers of PanaHome, while the discounted cash-flow analysis bases the lower end of its range on the assumption that the company's profitability will decrease substantially, even as PanaHome itself, and analysts, are predicting expansion, Fischer said.
Seiji Sato, a spokesman for Nomura, declined to comment, as did SMBC Nikko spokesman Koichi Shibata.
Fischer is a well-known backer of Japan's changes to its corporate-governance rules under Prime Minister Shinzo Abe, which were intended to make companies use cash better and protect the rights of all shareholders. He urged Toshiba Plant Systems & Services Corp. last year to invest its cash hoard rather than letting much of it sit at parent Toshiba Corp. While money is still deposited at Toshiba, the subsidiary now at least gets a market rate of interest, he said.
Fischer says he's been an investor in PanaHome since 2013. Oasis increased its stake in PanaHome to 5 percent in January, after Panasonic's announcement, and Fischer says it plans to buy more shares. He says he wants to see whether companies and investors are serious about improving corporate governance, or just paying lip service.
It's "a major public test for adherence to the substance and not just the form," he said. "Name by name by name, you're going to see how corporates voted individually, and how asset managers here voted."
Before it's here, it's on the Bloomberg Terminal.
LEARN MORE