Dotcom Claims Victory Even as Court Backs Extradition to U.S.
By
New Zealand High Court rules in Dotcom's favor on copyright

Court finds grounds for extradition in conspiracy to defraud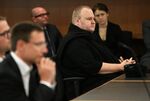 Internet entrepreneur Kim Dotcom claimed a "major victory" in his long-running battle to avoid extradition to the U.S. even as another New Zealand court ruled he is eligible for removal from the South Pacific nation.
The High Court said Monday that Dotcom and his co-accused, Mathias Ortmann, Bram van der Kolk and Finn Batato, are "eligible for surrender to the United States," upholding a District Court ruling from December 2015. But the court found in favor of the appellants on the issue of copyright infringement, saying they had not committed an offense under New Zealand law. Rather, they were eligible for extradition on the grounds of conspiracy to defraud.
"I told you I can't be extradited for copyright and I was right," Dotcom tweeted after the ruling. "I'll be watching as the legal profession dissects this extradition judgment in a copyright case that is no longer a copyright case."
The U.S. is seeking Dotcom's extradition from New Zealand over his now defunct file-sharing website Megaupload.com, which is alleged to have been the vehicle for the biggest copyright infringement in U.S. history. Today's court ruling comes five years after a dawn raid on the flamboyant German millionaire's Auckland mansion by armed police, who were acting on information from the FBI.
Pink Cadillac
Police used helicopters in the raid and seized millions of dollars worth of assets, famously including a 1959 pink Cadillac.
Prosecutors allege that Megaupload, which once accounted for 4 percent of all Internet traffic, generated more than $175 million in criminal proceeds from the exchange of pirated films, music and files. Dotcom and his co-accused have always maintained their innocence.
The High Court today agreed that Dotcom did not breach New Zealand copyright laws and that "the appellants have therefore succeeded with one of the main planks of their case."
"However, the High Court has found that a conspiracy to commit copyright infringement amounts to a conspiracy to defraud and is therefore an extradition offence listed in the US-NZ Treaty," it said.
In an interview with the New Zealand Herald, Dotcom said he was now "confident going with this judgment to the Court of Appeal," and predicted another two years of litigation.
"They destroyed my family, destroyed my business, spied on me and raided my home and they did all of this on a civil copyright case," Dotcom told the Herald. "We have won the major legal argument."