White House Defends Removing NSC Official Who Criticized Trump
By and
Craig Deare had been selected for role by Michael Flynn

Spokeswoman says 'silly' to name someone opposed to agenda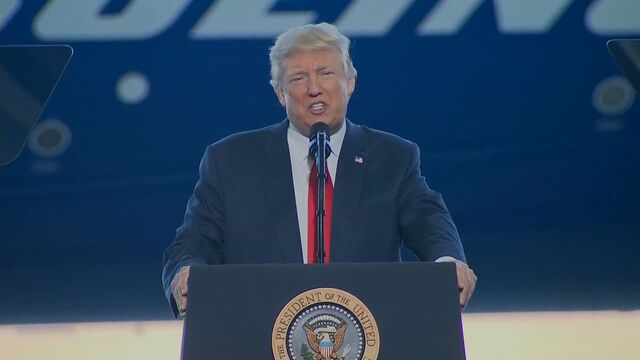 A White House spokeswoman defended the removal of a high-ranking National Security Council official for criticizing President Donald Trump and his aides, saying it would be "pretty silly" to have staffers who don't support the chief executive's goals.
"I don't think that any person that is there in order to carry out the president's agenda should be against the president's agenda," spokeswoman Sarah Huckabee Sanders told reporters on Sunday during a briefing near the president's Mar-a-Lago resort in Palm Beach, Florida.
Sanders was asked about Craig Deare, who was recently appointed the U.S. National Security Council's senior director for Western Hemisphere Affairs and then removed days after criticizing Trump and senior White House officials during a private event, according to a person familiar with the decision.
The White House spokeswoman did not distinguish explicitly between White House postings such as the National Security Council and jobs elsewhere in the federal bureaucracy when asked whether government employees should be concerned that they could lose their jobs if they criticize Trump.
"It seems pretty silly that you would have somebody that's not supportive of what you're trying to accomplish there to carry out that very thing," Sanders said.
Deare had been selected for the role by Michael Flynn, who resigned as Trump's national security adviser on Feb. 13 after the president and vice president lost confidence in his credibility because he misled them about a conversation with a Russian envoy.
Politico first reported Deare's dismissal. The former Army intelligence officer reportedly criticized Trump and others in the administration during a roundtable discussion at the Woodrow Wilson Center in Washington last week.
Deare's targets were said to have included chief strategist Stephen Bannon and senior adviser Jared Kushner, Trump's son-in-law, as well as disarray at the NSC in general.
An NSC official, who declined to be quoted, said the agency doesn't discuss personnel matters.
A second official familiar with the situation said Deare was released from his NSC position but not removed from the U.S. government. He was recruited to the security council, part of the president's executive office, from the National Defense University and will return to his post there, the official said.
Deare's biography shows he's been on the faculty of the professional military university since 2001. He joined the university's College of International Security Affairs in 2010 and most recently served as dean of administration.
Before it's here, it's on the Bloomberg Terminal.
LEARN MORE