Sessions Avoids Political Fray, But That May Not Work Much Longer
By
U.S. attorney general focuses on police, crime, immigration

'He's going to make decisions about recusal as necessary'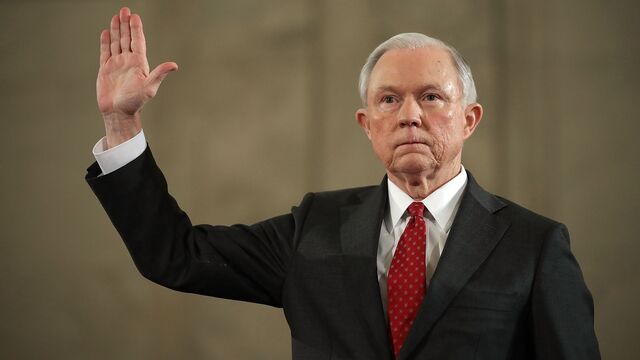 A week into his tenure as U.S. attorney general, Jeff Sessions is going about the business of establishing his conservative agenda at the Justice Department -- and keeping his distance from the political storms closing in.
The former Republican senator from Alabama has concentrated on supporting police, tackling border security and illegal immigration and getting up to speed about pending Justice Department cases. He's also made conciliatory calls to leaders of the NAACP and the National Urban League, two of the groups that tried unsuccessfully to defeat his nomination, saying he would undermine civil rights and voting rights.
But Sessions may not be able to avoid the political controversies surrounding the White House much longer. President Donald Trump on Thursday said he's "called the Justice Department to look into" leaks related to national security that have plagued the White House. And the attorney general, a close adviser and early campaign supporter of Trump, is facing demands from Democrats that he recuse himself from the FBI probe into contacts between Trump's advisers and Russia during and after the 2016 campaign as well as any investigation into leaks.
Those demands escalated this week after Trump forced out Michael Flynn as national security adviser for giving inaccurate accounts of his back-channel discussions with Russia's ambassador in Washington before Trump took office.
"He's going to make decisions about recusal as necessary on a matter-by-matter basis, and he's going to rely on the advice of attorneys here in the department before he makes a decision," Joseph "Jody" Hunt, Sessions' new chief of staff at the Justice Department, said in an interview.
Crime, Immigration
For now, Sessions, 70, a former federal prosecutor and state attorney general in Alabama, is following through on commitments he made during the confirmation process.
"He's very keen on law enforcement issues, focusing on violent crime matters, drug enforcement, immigration-related matters," Hunt said. "Maintaining and strengthening the department's relationship with law enforcement is important to him."
Enforcing the nation's immigration laws is another priority, Hunt said. The department has been litigating the lawsuits that have, at least temporarily, blocked Trump's executive order banning travel from Iraq, Syria, Iran, Libya, Somalia, Sudan and Yemen.
'Ongoing Litigation'
"There has been some significant activity on the immigration front, so obviously those things are things that require his attention," Hunt said. "We have the ongoing litigation so we're still working on those cases."
Trump told reporters Thursday that he'll issue a new order limiting immigration next week that will be "tailored to what I consider a very, very bad decision" by a federal appeals court in San Francisco halting the ban.
On Tuesday, Sessions met with Trump and Homeland Security Secretary John Kelly at the White House to discuss next steps "to secure our borders to end the flood of illegal immigration, drugs and human trafficking pouring into our country and undermining our national security," according to a Justice Department statement. He was scheduled to meet Trump again on Thursday.
Chicago's Mayor
Sessions also met at the Justice Department on Monday with Chicago Mayor Rahm Emanuel "to discuss what might be done to combat the shootings and murders in that city and bring back proactive community policing," the department said.
Trump threatened last month on Twitter to deploy federal law enforcement to the city. "If Chicago doesn't fix the horrible 'carnage' going on, 228 shootings in 2017 with 42 killings (up 24% from 2016), I will send in the Feds!" Trump wrote without elaboration.
As the nation's top law enforcement officer -- and overseer of the Federal Bureau of Investigation -- Sessions could be expected to play an increasing role in the inquiries on Russian hacking of Democrats during last year's campaign and of contacts between Russia and Trump's advisers and supporters, especially if there are recommendations for prosecutions.
Congressional Democrats, led by Senate Minority Leader Charles Schumer, said Wednesday that Sessions must recuse himself from any executive branch probe and allow an independent, thorough investigation to move forward.
"If this trail leads to the Oval Office, the person investigating that trail should not be the same person who helped put President Trump there," Schumer told reporters. "End of story."
All Democrats on the Senate Judiciary Committee also sent a letter to Sessions Thursday saying federal law "disqualifies anyone who is closely identified with an elected official or candidate with a substantial interest in an investigation."
"President Trump has an unquestionable interest in the outcomes of these investigations and your close ties to the campaign and General Flynn are equally clear," they wrote.
FBI's Comey
Any role Sessions plays in the Russian probes will bring him into contact -- and perhaps conflict -- with FBI Director James Comey, who has shown himself to be fiercely independent even though the attorney general is officially his boss.
Comey defied the wishes of former Attorney General Loretta Lynch when he sent a congressional notification just days before the November presidential election that he was renewing investigative activities into Democrat Hillary Clinton's use of private e-mail.
At various points, Comey was criticized by Trump, other Republicans and Democrats alike for how he handled the Clinton investigation. However, Trump decided after becoming president not to fire Comey, who has six years left in his 10-year term.
Sessions has surrounded himself in these early days with career, professional Justice Department deputies and aides. Along with Hunt, Dana Boente is serving as acting deputy attorney general, James Crowell as principal associate deputy attorney general and Noel Francisco as acting solicitor general.
Sessions must wait, however, for several nominees for senior leadership positions to be confirmed by the Senate. Trump has nominated Maryland U.S. Attorney Rod Rosenstein to be deputy attorney general; Rachel Brand, who previously served in the department, as associate attorney general; and Steven Engel, a partner at Dechert LLP law firm, to head the Office of Legal Counsel.
— With assistance by Terrence Dopp
Before it's here, it's on the Bloomberg Terminal.
LEARN MORE