Five Things You Need to Know to Start Your Day
Get caught up on what's moving markets.
By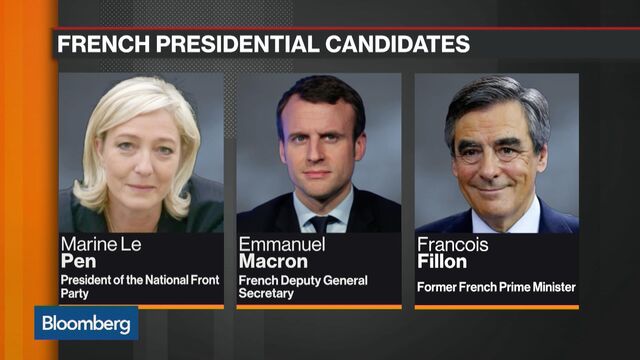 Want to receive this post in your inbox every morning? Sign up here.
VP Mike Pence heads to Europe, left-alliance talks hit French bonds, and the debt market isn't that worried about inflation. Here are some of the things people in markets are talking about today.
French bonds hit
A new twist in the French election is hitting the country's sovereign debt market. Socialist Party presidential candidate Benoit Hamon said he's in talks with far-left candidate Jean-Luc Melenchon about the prospect of uniting the left by establishing a single candidacy for the election. Polls suggest that such a move could leave the run-off vote potentially between far-right Marine Le Pen and a strongly leftist candidate, neither of which would be viewed as a good outcome for markets. 
Pence in Europe
Vice President Mike Pence will be meeting leaders in Munich and Brussels this weekend, where he is expected to provide reassurance of the U.S. commitment to NATO, while repeating demands that European allies contribute more to the alliance. New Treasury Secretary, Steven Mnuchin, will be heading to Europe next month for a G-20 meeting, where he will also have to inspire confidence in the U.S. administration amid President Trump's fiery rhetoric on foreign-exchange levels and regulation. 
U.K. retail sales unexpectedly decline
Retail sales dropped for the third month in a row in January, declining 0.3 percent, well below market expectations for a 1 percent advance. The pound dropped as low as $1.2388 after the data were released, falling by the most in more than two weeks. Also in the U.K. today, former prime minister Tony Blair urged Brexit opponents to fight to keep Britain in the European Union.
Markets drop
Overnight, the MSCI Asia Pacific Index lost 0.3 percent while Japan's Topix index fell 0.4 percent as the yen strengthened. In Europe, the Stoxx 600 Index was 0.5 percent lower by 5:40 a.m ET as miners and energy producers lost ground. U.S. index futures also slid. 
Inflation 
With consumer price inflation in the U.S. reaching the highest level since 2012, it seems that Pimco's warnings on inflation may be coming true. But one place such concern is not showing up is in the bond market, a sign investors expect core price pressures to be held in check. Allianz SE reported a 23 percent increase in fourth-quarter net income, saying that the Pimco turnaround is on track.
What we've been reading 
This is what's caught our eye over the last 24 hours.
Before it's here, it's on the Bloomberg Terminal.
LEARN MORE