Style
How to Choose the Perfect Swim Trunks
Four ways to find the right fit for you, and other style news of the week.
By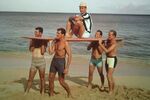 In midwinter, daydreams tend to detour toward sun-soaked beaches—plans for long weekends in the Caribbean, agendas for schlepping the kids to Florida for cold-weather recess, or just sprawling on South Pacific sands.
What sort of swimsuit does one dare to wear in these visions? 
Adam Brown, head of London-based swimwear maker Orlebar Brown, had his Archimedes-in-the-hot-tub moment at a pool party in 2005. The male guests looked bad and felt worse, swaddled in billowing trunks they'd need to wriggle free of before entering a dining room for lunch. "I was actually laughed at by my friends," Brown told me. "They said, 'Who would ever want to wear a tailored swim short?'"
These days, who wouldn't? Brown's vision anticipated an age when Instagram has transformed men's beachwear from an afterthought into something set down on your permanent record. Like all of the best contemporary trunks, Orlebar Brown's permit a smooth transition from swim-up bar to sit-down meal. Quick-drying polymers are where the action is—a tradition of technical fabrics stretching back at least to the 1940s and Jantzen's "Nylonit" trunks.
Before you place your next order, here is what some of the top names in men's swimwear advise. 

Start With Your Height
In its design, the contemporary trunk has amphibious ambitions. "We design our swim shorts so they can be worn in place of regular shorts," said Mike Faherty, co-founder of Faherty Brand, which has attracted a premium customer with board shorts that come with 7-inch and 9-inch inseams.
How to choose? The easiest way to decide, says Faherty, is based on height. "Tall guys over 6'3" tend to go for the 9-inch," he says. "Shorter guys, 5'10" and under, go with the 7-inch." 
Location, Location, Location
But in this arena, the matter of how tall one stands is less important than the issue of where he is standing. "A shorter inseam is definitely more relevant on the East Coast," Faherty said. That's where he is competing with European brands for fashion-minded customers.
And the West Coast? "A lot of our guys in California have grown up wearing classic surf brands," Faherty continued. "They only know a longer-inseam short. Guys, sometimes they gravitate to what they're used to, and there's nothing that can change that."
Embrace a European Vibe
Yes, swimsuit length is a consistently vexing issue. The French brand Vilebrequin began in 1971 after its founder, Fred Prysquel, followed his future wife to Saint Tropez to pitch woo. Feeling distinctly uncomfortable in the Speedo-type briefs of the day, he created a dashing swimsuit that offering greater coverage. This model, called the Moorea, has a 5.5-inch inseam in size medium, while a longer short dating to 1996, the Okoa, has an 8.5-inch inseam.
In the U.S., about 30 percent of Vilebrequin's business is in the Okoa, according to Chief Executive Roland Herlory. "The rest of the world, it's about 5 percent to 10 percent," he said. Gingerly testing his English, Herlory added, "The Americans, they are more … prude. You can say this? The opposite of the Italians—they do not cover the body as much."

Herlory's observation was seconded, but qualified, by Michelle Copelman, design director at Solid & Striped, which offers swim shorts in four lengths. "Traditionally the American customer is more conservative than the European customer," she said, "but we are noticing men in the U.S. are starting to explore different silhouettes."
Though Solid & Striped's bestselling silhouette is the "classic" with its 4-inch inseam, Copelmen refuses to believe that the man who wears it is more or less fashionable than the guy catching waves or rays in the brand's board short, with its 8-inch inseam. "The 1970s surfer vibe is stronger than ever, and instead of the board short being conservative, it's stylish. As men's swim trends are broader than women's, you can design and market to many different customers and still tell a strong brand story." 
Choose an Outrageous Pattern Carefully
At Orlebar Brown, both the brand story and the product range accommodate an older customer who buys deep (they name-drop the Apple designer Jonathan Ive) and a younger one nonetheless willing to lay out $245 or more for a "hero short" worn on special occasions. The company offers its shorts in four lengths, each with a canine name, ranging from the abbreviated springer to the not-quite-knee-length dane.
Brown himself tends to prefer middle lengths, and when venturing to the shorter end of the spectrum, he'll select a solid color or simple pattern, as opposed to one of his flashy photo-print numbers.
"I'm 51," he said. "It's like, Is that too much of a good thing?"
The Week in Threads: A Few Loose Ends
The biggest business news in the rag trade this week concerned Kate Spade & Co, as shares rose amid takeover speculation. Those of you who earned money on this move might consider slipping it into one of the new Jack Spade billfolds available in early March, among other leather goods, exclusively at Barneys New York ... Drake's, esteemed purveyor of scarves, ties, and much else, dropped a spring collection. Men of taste will be interested to know they've expanded that much-else category to include proper suits. "Navy's always been our color, so it felt right starting there," says creative director Michael Hill. There's a navy seersucker made with Loro Piana fabric and also a navy Spence Bryson Irish linen, each soft-shouldered and unlined. "We also have the Irish linen in a beautiful chocolate brown," Hill adds. If you are concerned about getting laughed out of your workplace for turning up in a brown suit, the jacket and trousers are available as separates ... Discuss among yourselves the flair and oomph of the 13 best motorcycle helmets ... Marc Jacobs wrapped up New York Fashion Week by leaving his Park Avenue ladies out in the cold ... This would seem to be a slam-dunk case: The best and worst clothing lines from NBA stars 
(
Photo caption corrected to give the appropriate name of the maker of the anchor-print swimsuits, Vilebrequin.
)
Before it's here, it's on the Bloomberg Terminal.
LEARN MORE