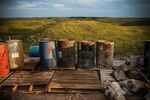 The Obama administration largely put an end to old-school federal energy auctions last year, just when they were starting to get interesting.
Those barker-and-gavel sessions, long the primary way the Bureau of Land Management sold leasing rights for oil and gas drilling on federal property, had become targets for climate activists. A year ago, a conservationist worried about drilling near her home in Utah paid $2,500 for the rights to 1,120 acres of federal land. (She put the purchase on a credit card.) The BLM rescinded the lease months later after she'd made it clear she didn't intend to drill.
The bigger disruption came in May, when hundreds of protesters blockaded a 7,000-acre auction at a Holiday Inn in Lakewood, Colo. Police eventually broke the blockade, and Kathleen Sgamma, president of Western Energy Alliance, a powerful industry lobbying group, told a local newspaper she'd ask the BLM "to get rid of this circus by just holding online auctions."
Over the summer, the BLM changed its rules to do just that, and this year only two of its 26 auctions will be held in person. The rest have been contracted to EnergyNet, a privately held company in Amarillo, Texas, that runs the country's largest auction site for oil and gas properties. Obama's BLM gave EnergyNet a five-year exclusive to manage the bureau's online auctions, and the company has since made similar deals with state agencies in Colorado, New Mexico, North Dakota, Texas, Utah, and Wyoming.
EnergyNet takes a 1.5 percent commission on its BLM auctions, and sales of federal and state lands on the site topped $158 million last year. Overall sales on the platform rose to $745 million, more than triple the 2013 figure. Partly, that's because cratering oil prices have pushed leaseholders to put their rights up for sale.
EnergyNet auctions naturally filter out most protesters. Under the terms listed on the website, registered lessees must be able to prove that they're professionals "engaged in the oil or gas or other minerals business on an ongoing basis." Still, Chief Executive Officer William Britain is clearly worried about activists. He responded to an interview request by asking that a Bloomberg Businessweek editor call to confirm the reporter's identity. "With the government work we are doing, we have a lot of protesters," Britain says. "You can't be too careful these days."
Britain, previously an oil and gas driller, founded EnergyNet in 1999 and started pitching the site to the BLM in 2009. At the time, a Reagan-era federal mandate required that all auctions be conducted in person and relatively near the land being auctioned, so "we went to work trying to get that law changed," he says. Eventually, the company helped get language giving the BLM power to shift its auctions online tucked into the 2015 National Defense Authorization Act, the annual Pentagon budget. "Everyone should want it to be easier to buy federal leases," Britain says, "rather than just these little regional live auctions they'd been having."
Anti-drilling activists say the result is opacity, not efficiency. "The real effort here is to take auctions out of the public spotlight and to scurry into the cover of darkness to escape people who want to protest," says Jason Schwartz, a spokesman for Greenpeace, which helped organize the Lakewood protest.
Then again, the old auction process wasn't exactly transparent, either, says Nada Culver, director of the BLM policy group at the Wilderness Society, another conservation advocate. "The guy in the cowboy hat and the boots at the auction is not the giant oil and gas company that ends up with the lease," she says. "This is not a process that's ever been open to regular people."
The bottom line: Sales on EnergyNet more than tripled in three years, reaching $745 million in 2016, including $158 million in government lands.
Before it's here, it's on the Bloomberg Terminal.
LEARN MORE