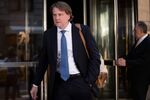 In less than a month, the Trump White House already has spawned a litany of ethics and legal controversies: potential conflicts of interest created by the president retaining ownership of his businesses, court challenges to his executive order on immigration, and the ouster of National Security Adviser Michael Flynn, to name just a few.
All of these issues fall within the purview of one senior Trump aide, White House Counsel Donald McGahn, who's enjoyed a degree of anonymity that's beginning to erode as the political circus in Washington shows no sign of settling down. "He's either one of the architects of this mess, giving bad advice," says Nicholas Allard, a longtime Washington attorney who's now the dean of Brooklyn Law School, "or more likely, based on what I know about his intelligence and experience, he's siloed off and is not one of the people the president listens to."
On Feb. 14, White House spokesman Sean Spicer placed McGahn at the center of the Trump team's internal discussions on whether Flynn told the truth about his interaction with Russia's U.S. ambassador in December. At a news briefing, Spicer confirmed that on Jan. 26, then-acting Attorney General Sally Yates told McGahn that she believed Flynn misled White House colleagues about his communication with the Russian envoy, making him vulnerable to blackmail.
McGahn immediately informed Trump about Flynn's lack of candor, leading the president to order the White House counsel to conduct a legal "review" of the situation, Spicer said, adding that McGahn concluded that Flynn hadn't violated the law. "The issue pure and simple came down to a matter of trust," Spicer said. "That's why the president asked for his resignation, and he got it."
On a matter that's neither pure nor simple, Spicer's won't be the last word on the Flynn imbroglio—or McGahn's reported determination that Flynn didn't break any laws. One issue is whether the retired lieutenant general violated a statute barring private citizens from interfering with diplomatic relations between the U.S. and foreign governments. U.S. intelligence agencies and the FBI are investigating the full extent of contacts that Trump's advisers and associates had with Russia during and after the 2016 campaign, according to four national security officials with knowledge of the matter. The New York Times reported on Feb. 14 that people close to Trump made repeated contact with Russian intelligence officials during the campaign.
McGahn, 48, a well-known election-law attorney who practiced privately in the Washington office of the corporate law firm Jones Day, advised Trump during the campaign. From 2008 to 2013, McGahn served as a member of the Federal Election Commission, where he tried to reduce regulations limiting campaign spending. "He will play a critical role in our administration," Trump said of McGahn after November's election. In response to a request for comment, a White House spokeswoman said McGahn "does not do interviews."
Jack Goldsmith, a Harvard Law School professor and former senior Justice Department official under President George W. Bush, drew a connection between questions about McGahn's role in the Flynn affair and the counsel's performance related to other controversies. "Other questions will and should be asked about what McGahn has done to enforce ethics rules," one of the main responsibilities of a White House counsel, Goldsmith wrote on Feb. 14 on a blog called Lawfare. The professor pointed to episodes such as senior Trump adviser Kellyanne Conway urging Fox News viewers to buy presidential daughter Ivanka Trump's brand of clothing and accessories.
The White House counsel typically leads the ethics vetting of cabinet nominees, a step in the appointment process to which the Trump administration apparently paid little attention, Goldsmith observed. The failure led to embarrassing revelations such as Andrew Puzder, Trump's pick to head the Department of Labor, acknowledging that he'd employed an undocumented immigrant to clean his house. Puzder withdrew from consideration on Feb. 15.
Another core duty of the White House counsel is overseeing executive orders. Trump's order curbing immigration from seven predominantly Muslim countries sparked numerous protests and a so-far-successful court challenge. The failure to phrase the order in a way that would insulate it from attack shows either that McGahn failed as an attorney or he wasn't listened to. In another illustration of executive order disarray, the New York Times has reported about Trump's "anger that he was not fully briefed on details" of an order giving his chief strategist, Steve Bannon, a seat on the Principals Committee of the National Security Council.
"The White House counsel is supposed to be more than a traffic cop," says Stephen Vladeck, a professor at the University of Texas School of Law. "He's supposed to keep the president's agenda from getting derailed by obvious distractions." So far that's not happening, says Vladeck. "The million-dollar question is whether that's because Don McGahn is ineffective or deeply on-board with everything that's going on."
Some White House counsels have distinguished themselves as sage advisers. Clark Clifford played that role for Harry Truman, and Ted Sorensen did the same for John Kennedy. By contrast, Richard Nixon's first three counsels—John Ehrlichman, Chuck Colson, and John Dean—all served prison time for their participation in the Watergate scandal. In November, President Obama said that when he met with Trump after the election, he told him that having a strong White House counsel "would eliminate a lot of ambiguity."
Trump's public expressions of disdain for the judiciary—after losing a round in the immigration ban litigation, he tweeted his condemnation of the "so-called judge" who ruled against the government—make it all the more important that he have a strong White House counsel, says Allard. "This president needs someone to instruct him on the rule of law and respect for the law."
The bottom line: White House Counsel Donald McGahn has yet to show he can steer President Trump away from making obvious mistakes.
Before it's here, it's on the Bloomberg Terminal.
LEARN MORE