Style
The Best and Worst Clothing Lines From NBA Stars
Boxer briefs with 9-inch inseams. Pre-tied bow ties. What could go wrong?
By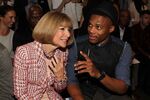 Hello and welcome to NBA All-Star Weekend 2017, where basketball fans can witness the JBL Three-Point Contest, the Verizon Slam Dunk Contest, and, of course, the annual running of the clotheshorses.
OK, that last one isn't an actual event, but it should be. Basketball players have ranked as the best-dressed pro athletes for a while, thanks to physiques friendly to sharp tailoring and the league-mandated dress code.
Now they are competing to dress the general public. For these superstars, it's as if having your own clothing line is as necessary as owning a pair of breakaway pants. As the phenomenon reaches critical mass, we take a look at who among them has a hot hand—and who is laying bricks.

Dwyane Wade, Chicago Bulls
The jury is still out on the underwear line Wade X Naked: The core stretch-cotton boxer briefs ($36 for a three-pack) received tepid word-of-mouth reviews, and the houndstooth boxer briefs ($22) resemble headache-inducing Op Art. Wade's adventures in neckwear with the Tie Bar are even more problematic. The fact that the collection includes pre-tied bow ties ($25) warrants a season-long suspension from the league of menswear. Mitigating factor: Wade's spiffy silk pocket squares ($15) offer exceptional value.
Nick Young, Los Angeles Lakers
Lakers guard Nick Young refers to his sportswear as "merch," as in tour merchandise, as if he were a hip-hop star playing arenas rather than a guy with a popular Instagram and a lifetime scoring average of 12 points per game. He calls his merch line Most Hated Player, an apparent extension of a nickname he made up for himself. But don't hold that against him: The '80s-skater-dude aura of this $100 hoodie handsomely compensates for that nonsense.

Russell Westbrook, Oklahoma City Thunder
The fashion-forward point guard is a serious avant-garde style player. And his ideas about streetwear, such as a nylon anorak ($395) he did for Barneys a few seasons back, can be quite smart. So let's give him the benefit of the doubt and assume that his True Religion collaboration, TRxRW, is the failed experiment of mad genius. The paint-streaked Russell Westbrook Rocco Skinny Men's Jean in Midnight Dunes ($279—but marked down in what we do not expect to be a limited-time discount) seems to have been created with the help of an energetic toddler wielding a foam rubber roller. They are bad on many levels, but the scariest thing is the possibility that Westbrook is simply ahead of his time and we are all going to be dressed like dropcloths in the near future.
Kevin Durant, Golden State Warriors
Remarkably, the palm-tree print on these moisture-wicking Neffwear KD boxer briefs ($29.99) is among the more subdued in a collection that also includes one model paying homage to Navajo blankets and another apparently inspired by a mishap on a buffalo-check-bedding assembly line. And with a 9-inch inseam, these things are roughly the length of bicycle shorts. This feature, doubtlessly useful to 6'9" Durant, seems more likely to present a nuisance to us shorter mortals.

Carmelo Anthony, New York Knicks
Last year's Teenage Mutant Ninja Turtles sequel flopped at the box office, blazing a path straight to the discount rack for Anthony's line of kids' gear. The graphics, as on this heather gray T-shirt, are not bad—though hardly so impressive that I'm willing to bet my son's comfort on the softness of its 100 percent polyester material. It sounds more miserable than sitting between Anthony and Phil Jackson on a cross-country flight.
Anthony Davis, New Orleans Pelicans
The former Kentucky player's collaboration with Saks Fifth Avenue made its debut this season, which means that, for our purposes, he is both the rookie of the year and MVP. There is some actual athleisure sophistication in the ensemble pictured here, with the sweatshirt ($128) and matching pants ($138) finished with thoughtful details. Note also the cotton/poly cleverness of a heather gray hoodie ($178) cut to emulate a Perfecto motorcycle jacket.

Kyle Lowry, Toronto Raptors
In 2015, Lowry told his local newspaper that he "wanted to give a little Toronto feel" to his nine-piece capsule collection for Roots. To judge by that collection's most unfortunate item, Toronto has the grainy texture of a black leather vest that an early-'80s Eddie Murphy would have rejected as garish. To judge by this respectable cardigan ($370 on eBay), the city is as cozy as an achromatic Coogi sweater.
Kevin Love, Cleveland Cavaliers
Again with the underpants. Why all the underpants? Thinking on it, you wonder whether Michael Jordan, a Hanes spokesman for 28 years and counting, bears all the responsibility. Then, remembering that Babe Ruth All America Athletic Underwear was a thing in 1923, you realize that American manhood has sought the comfort and support of sporting heroes throughout the 20th century. Love's forthcoming collaboration with the Canadian brand Saxx, founded by a onetime minor-league baseball player named Trent Kitsch, is the logical step down this road. Though we've only seen one photo of them, we're gonna pan the company overall for making a selling point of its "catcher's mitt-inspired BallPark Pouch."
Before it's here, it's on the Bloomberg Terminal.
LEARN MORE