Durst Admitted to Friend That He Killed His Wife, Court Told
By
L.A. prosescutors seek to preserve testimony ahead of trial

Real-estate heir's accused of slaying friend who knew too much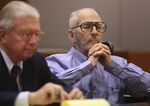 Robert Durst apparently confessed to killing his first wife in 1982 and a long-time friend and confidante 18 years later, according to testimony given by a New York advertising executive ahead of Durst's murder trial in Los Angeles.
Durst, a New York real-estate heir, is charged with the execution-style murder of the confidante, Susan Berman, allegedly because she knew too much about the disappearance of his wife, Kathie Durst.
Nick Chavin, who said he and Durst were best friends in the early 1980s, testified in a Los Angeles court Thursday that Berman told him Durst had killed his wife. And following a dinner in 2014, when Berman's name came up, "Bob said, 'I had to do it,"' Chavin testified. "It was her or me. I had no choice," Chavin said Durst told him.
Chavin's testimony echoes Durst's comments, made off-camera while wearing a live microphone following an interview for HBO's "The Jinx: The Life and Deaths of Robert Durst." Durst is heard muttering to himself while in a restroom: "What the hell did I do? Killed them all, of course." A day before the episode aired, Durst was arrested in New Orleans and charged with Berman's murder shortly after.
Chavin, who said he met Durst through Berman, said he had several conversations with her after Kathie Durst's disappearance in which she told him that Durst had killed his wife.
"I asked her how do you know," Chavin said under questioning Thursday by a prosecutor. "She said because Bob told me."
"We have to protect Bobby," Chavin recalled Berman telling him.
Chavin was called by prosecutors to a hearing meant to preserve testimony of witnesses who may no longer be available if the case goes to trial. The Los Angeles district attorney's office kept Chavin's identity secret out of concern that 73-year-old Durst, who they say is worth as much as $100 million, is a threat to witnesses even from behind bars.
Prosecutors have said they want to bring in at least four people for so-called conditional examination. Their video-recorded testimony will only get played at trial if they aren't able to testify in person.
Kathie Durst
Chavin testified earlier he met Durst through Berman when he moved to New York around 1980. He said Kathie Durst had come to his apartment on several occasions to complain about her marriage and told him she was afraid her husband would hurt her.
Chavin testified he initially didn't believe Durst had anything to do with Kathie's disappearance and that he argued with Berman about it. Chavin said he changed his mind about Durst after learning he killed and dismembered a neighbor in Galveston, Texas. Until then Chavin said he hadn't thought Durst was capable of that kind of violence.
Durst was acquitted by a jury of the Texas slaying after arguing he acted in self-defense and chopped up the body of his neighbor and dumped the parts in Galveston Bay.
Chavin said Durst never told him that he killed Kathie.
"He would confide more with Susan than with me," Chavin said.
Durst has pleaded not guilty to the murder charge and no trial date has been set. He's currently serving a federal prison sentence after pleading guilty to being a felon in possession of a firearm. He had a gun on him when he was arrested in New Orleans, almost two years ago.
'Beverley,' 'Jinx' and Durst's Feared Wrath: QuickTake Scorecard
On Tuesday, Albert Kuperman, a former dean of the medical school in New York that Kathie Durst attended, testified about a phone call he received on Feb. 1, 1982, the day after she was last seen alive.
Lewin suggested in a jailhouse interview with Durst after his arrest that the defendant made Berman call Kuperman to pretend she was Kathie in 1982 and report that she couldn't do her hospital rotation because she was sick.
Kuperman, 85, testified he would have had no way of knowing the call actually came from Kathie Durst because he barely knew her.
The case is People v. Durst, SA089983, Los Angeles County Superior Court.
Before it's here, it's on the Bloomberg Terminal.
LEARN MORE