Norway Central Bank Chief Warns of 'Sharp' Drop in Wealth Fund
by
Says fiscal mechanism can't allow for rising oil spending

Says oil cash spending needs to be seen in relation to GDP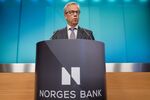 Norway's central bank governor sharpened his warning on rising spending of oil revenue as he drew up scenarios for a 50 percent loss of capital over the next 10 years for the world's biggest sovereign wealth fund.
Governor Oystein Olsen said that the continued rise in oil cash spending, which now accounts for about 20 percent of the budget and 8 percent of gross domestic product, must now be halted to protect the $900 billion fund, the world's largest sovereign pool of cash.
"With a high level of oil revenue spending, there's a risk of a sharp reduction in the fund's capital," Olsen said in the traditional Annual Address in Oslo Thursday. "This could, for example, happen if a global recession triggers both a decline in oil revenue and low or negative returns on the fund's capital."

Government withdrawals from the fund are estimated to jump about 25 percent this year after an historic first outflow last year. The Conservative-led government was last year forced to dip into the oil fund for the first time to cover budget needs and protect the economy amid a plunge in oil prices.
Read more on rising withdrawals from wealth fund
While the fund, which is overseen by the central bank, so far has said it's more than able to handle outflows without selling assets, Olsen's speech did lift the lid to reveal some of the worst case scenarios being calculated by the investor.
For example, it sees a 1 percent chance of a 50 percent decline over 10 years if spending is kept at the current level of about 3 percent of the fund. If spending is raised to 4 percent that probability rises to about 5 percent. If the fund's allocation to stocks is boosted to 75 percent from 60 percent, which is currently being discussed, the probabilities rise even further to about 2 percent and 6 percent, respectively.
"This shows what you may risk if you increase oil spending from today's level," Olsen said in a separate interview. "This helps us to strengthen the message."
The warning came in an embargoed speech and interview, which were later amended after the government on Thursday announced it was tightening the 16-year-old fiscal policy rule to 3 percent of the fund's value from 4 percent, capping spending of oil revenue. The minority government will need backing in parliament for the change, which will have little immediate effect since oil money spending has held at or below 3 percent since 2014.
The government also proposed to raise the stock portion in the fund to 70 percent from 60 percent to help generate higher returns.
While the proposed changes are reasonable it's more important to look at spending as a percentage of gross domestic product, Olsen said.
That could serve to discipline politicians. "Whether you call it a ceiling must be up to the politicians, they must design a new fiscal guideline for the long term," Olsen said. "But I warn against following a path that mechanically gets you to a higher level."
Olsen offered few clues on monetary policy, while reiterating that the most "pessimistic scenarios" from the oil plunge haven't materialized. Fiscal spending and monetary policy have both played a part in saving the economy, he said. He has previously signaled that he's done with cutting rates after hitting a record low of 0.5 percent, in part due to concerns about surging property prices.
Read more on the economic recovery here
"It must be recognized, however, that the longer-term challenges facing the the Norwegian economy can't be resolved by spending more oil revenue and keeping interest rates low," he said in the speech, arguing the Norwegian economy needs more legs to stand on.
Before it's here, it's on the Bloomberg Terminal.
LEARN MORE