Malaysia Nabs Third Suspect in Murder of Kim's Half Brother
By
First woman arrested on Wednesday had Vietnam travel documents

Police have detained two female and one Malaysian man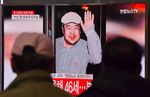 Malaysian police detained a third suspect in the murder of Kim Jong Nam, the half-brother of North Korean dictator Kim Jong Un.
The Malaysian man, 26, was arrested Wednesday evening as he is romantically linked to the second female suspect, Police Chief of Selangor state Abdul Samah Mat said by phone on Thursday.
"We also want to discover how far he knows about his girlfriend's activities," Abdul Samah said.
The police detained the second female suspect early Thursday morning. Carrying an Indonesian passport in the name of Siti Aishah, 25, she was identified from closed circuit television footage taken at Kuala Lumpur International Airport and was alone at the time of her arrest. An Indonesian Foreign Ministry official confirmed that consular access had been sought for a woman arrested on suspicion of involvement in the alleged murder.
On Wednesday, police arrested a woman carrying Vietnamese travel documents with the name Doan Thi Huong, 28. 
South Korean officials believe that Kim Jong Nam was poisoned with either a needle or a spray, Lee Cheol-woo, chairman of the intelligence committee in South Korea's parliament, told reporters on Wednesday.
Malaysia's Inspector General of Police, Khalid Abu Bakar, confirmed via text message that his country had rejected a request by North Korean authorities to claim the victim's body before the autopsy.
The murder has triggered questions about the stability of Kim's regime as he accelerates plans to build nuclear weapons that threaten the U.S., South Korea and Japan. South Korean analysts and government officials have speculated that Kim was behind the killing of his half-brother, a critic of his leadership who lived outside the country for years.
Kim Jong Nam, the eldest son of former dictator Kim Jong Il, fell out of favor with his father after he was caught trying to enter Japan using a fake Dominican Republic passport in 2001, according to Japanese reporter Yoji Gomi, who wrote a book about him. Kim Jong Nam had been critical of Kim Jong Un, reportedly saying in 2012 that he "won't last long" because of his youth and inexperience. The two brothers have different mothers.
Kim Jong Un has had a "standing order" to kill Kim Jong Nam since he took power in 2011, Lee said.
— With assistance by Pooi Koon Chong, and Karlis Salna
Before it's here, it's on the Bloomberg Terminal.
LEARN MORE