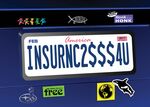 When Travelers said in January that it was ready to increase prices for car insurance, Wall Street's attitude was: "What took you so long?" Consumers may soon be wondering when the premium hikes will ever end.
The largest U.S. auto insurers have suffered from years of higher-than-expected claims, frustrating investors. Industrywide, companies have been paying $1.05 in costs for every $1 in premium revenue. A decade ago that figure was 95¢—meaning insurers came out a nickel ahead. Allstate and Berkshire Hathaway's Geico unit have been raising prices since at least 2015, making Travelers one of the last big shoes to drop.
At an investor conference last year, Tom Wilson, Allstate's chief executive officer, said rising costs were partly the result of the economy's expansion. More people commuting to work—and driving to vacations—means more cars on the road and more accidents. Then there's distracted driving: Allstate said in February there's a "striking" correlation between the rise in smartphone use and crashes. All told, vehicle-related deaths rose 8 percent in the first nine months of 2016 from the same period in 2015.

Because of increased health-care costs, claims are costlier when accidents happen. And car features that are meant to minimize accidents, such as driver-assistance technology and cameras on the bumper, can add to repair bills. "Where a normal repair 10 or 15 years ago from an accident cost $1,500, now that same bumper with all the technology is $3,500," says Derek Ross, president of Kulchin Ross Insurance Services, an insurance brokerage based in Tarzana, Calif. "The insurance companies are absorbing those real dollar claims while trying to figure out how much of this automation and technology is actually working to their benefit."
The pace of premium increases has hit a 13-year high, according to data from the U.S. Department of Labor's consumer price index. A number of state regulators say they're concerned about the higher costs for drivers. California's insurance commissioner created a low-cost insurance program last year for lower-income residents and pushed companies to explain why their costs are so high.
A January report from the U.S. Department of the Treasury says more than 18 million Americans live in a ZIP code where car insurance is unaffordable based on the median local income. "For the most part around this country, you need a car to be economically mobile," says Doug Heller, an insurance expert at the Consumer Federation of America. "That premiums are rising becomes a real impediment to families' finances and economic growth."
Wall Street, on the other hand, has applauded the shift. "The industry needs to generate a reasonable rate of return," says Barclays analyst Jay Gelb. Amit Kumar, an analyst at Macquarie Group, upgraded his recommendation on Travelers partly because of the decision to raise rates.
Still, just because insurers might like to collect higher premiums doesn't mean consumers will sit still for them. According to the Zebra, which compares quotes for more than 200 insurance companies, premiums are $1,323 a year for a male with a good driving record, up from $1,194 in 2011. That's a noticeable bill in the family budget. So there's an incentive to shop around and change insurers.

It's getting easier to do. Startups and venture capital investors are racing into the online insurance-shopping business. Mark Cuban is among investors backing the Zebra. CoverHound, which previously helped Google create a comparison website before it was closed last year, has raised more than $50 million for its own similar effort. "We are seeing more customers switch now on our site than ever before," says Andrew Rose, the CEO of Compare.com, another company that helps customers find quotes online.
At the same time, startup insurers such as Metromile seek to provide cheaper options by allowing motorists to pay for coverage based on how much they drive. Customers put a wireless device in their car that measures mileage and shares it with the insurer.
Over the longer term, big insurers face deeper threats to their profitability. Morgan Stanley and Boston Consulting Group said in a recent report that the $200 billion global business could shrink 80 percent by 2040. Ride sharing services such as Uber may lead more people to skip buying a car, or maybe that second family car. Self-driving vehicles could reverse the rise in costly accidents but also force premiums lower. And the makers of navigation apps and connected cars, with direct access to a driver's data, could emerge as competitors to traditional insurers.
"The watershed moment is sometime in the next decade," says Rose of Compare.com. "When do you stop seeing rate increases and you start seeing rate decreases?" The companies that guess the next turn correctly—and move fast enough to cut rates and grab market share—will win the next cycle in the insurance business.
The bottom line: Big car insurers are raising premiums to return to profitability—but that's made them vulnerable to new competitors.
Before it's here, it's on the Bloomberg Terminal.
LEARN MORE