Hunting for Dirty Deeds in the $34 Trillion U.S. Futures Market
A market watchdog has more info than it can afford to sort through.
By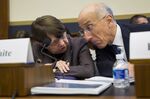 At the cash-strapped regulator of the U.S. derivatives market, even an iPhone's worth of data is too much to handle. Every day, just a bit after 4 p.m., about 50 gigabytes of data are transmitted from the Chicago office of CME Group to the Commodity Futures Trading Commission in Washington. The files contain the day's history of trades on the world's largest futures exchange, which CME runs. And that's just a sliver of the information the agency gets.
One way to nail crooked traders who are distorting prices is to sift through that data and spot manipulation. Yet cases of potential fraud are likely going undetected, in part because the CFTC lacks sophisticated software to analyze the data it gets from CME and the other parts of the markets it oversees. "The CFTC has an enormous amount of data," says Aitan Goelman, who until February was director for enforcement at the commission. "We could be doing so much more to proactively detect misconduct, and we can't because of our budget."
The main role of the CFTC is to police the $34 trillion U.S. futures market. After the financial crisis, which was caused in part by complex financial derivatives, the 2010 Dodd-Frank Act also gave the CFTC oversight of an even bigger market: the $400 trillion in swaps traded outside of exchanges. While the commission has been asking for a budget equal to that new responsibility, Congress from 2011 to 2016 has given it on average $72 million less per year than it requested.
Compared with the markets for stocks, those for futures and other derivatives are obscure to most individual investors. But corporations, farmers, manufacturers, and financial institutions all use them to manage the risks of their businesses, by betting on the future prices of everything from wheat and oil to stocks and bonds. If hedging doesn't work well, "it makes the entire system more risky," says Dan Berkovitz, a former general counsel for the CFTC who's now a partner at Wilmer Cutler Pickering Hale & Dorr.
With President Trump vowing to roll back financial rules and put regulatory agencies under a microscope, the watchdog could be further reined in. In January, House Republicans passed a bill that would allot $250 million a year to the CFTC through 2021, 24 percent less than the $330 million President Obama asked for in his last budget.
The agency has about 160 people working in enforcement—with just one overseeing trading in the $117 billion U.S. oil market, where wholesale prices for gasoline and heating oil are set. By comparison, the U.S. Securities and Exchange Commission, which watches the stock market, has an enforcement team of 1,400. It receives $1.8 billion, part of which is funded by fees levied on stock trades. The CFTC gets its money from Congress.
In January the CFTC secured a lifetime ban against former New Jersey Governor and U.S. Senator Jon Corzine for his role as chief executive officer in the 2011 failure of MF Global. And it played a central part alongside other federal regulators in bringing charges against the world's largest banks and brokers for rigging global foreign exchange and interest rate markets, including the benchmark for the rates on millions of home loans worldwide.
To sort through market data, the SEC has at its disposal the analytic power of Palantir Technologies, which is used by the departments of Defense, Justice, and Homeland Security, as well as corporate and investing giants. The CFTC has long wanted the same but can't afford it, say people familiar with the agency.
Still, it's making inroads. Within the past year or so the enforcement division cut deals to work with private companies Vertex Analytics and Neurensic, according to a person familiar with the matter. Vertex offers real-time visualization and pattern-recognition tools that can make it easier to spot illegal trading maneuvers such as spoofing—entering orders you don't mean to execute in order to manipulate prices. The company gets the same data the CFTC receives from CME each day. "We have a perfect forensic record of events" and can scan "billions upon billions of data points within minutes," says Doug Duquette, Vertex's chief operating officer.
Neurensic uses artificial intelligence to sift through reams of raw data and even to discover new types of fraud, says CEO David Widerhorn. The technology can "find things that no one has even seen before that are manipulative," he says. This occurred recently with a new type of spoofing that people at Neurensic started to call vacuuming. "Our AI said, 'Wait a second, look at this pattern, it's basically the same thing, just more complicated,' " Widerhorn says.
Duquette and Widerhorn both declined to discuss the CFTC work, citing contractual obligations. While these are first steps for the CFTC, the people familiar with the agency say its only scratching the surface in its efforts to protect markets. In 2013 it said it declined to pursue cases against individuals involved in the $6.2 billion "London Whale" trading loss at JPMorgan Chase, in part because of resource constraints. "There is an enormous amount of misconduct in our markets that goes unchecked and undetected," says Goelman, the former head of enforcement.
 
—With Matt Robinson, Ben Bain, and Jessica Summers
The bottom line: The CFTC is turning to private companies to help it find signs of manipulation in the derivatives market.
Before it's here, it's on the Bloomberg Terminal.
LEARN MORE