GM, PSA Lose European Ground as Carmakers Mull Regional Deal
By and
Entity would be region's second-biggest auto manufacturer

Peugeot-maker can stem 'billions' price tag post-rescue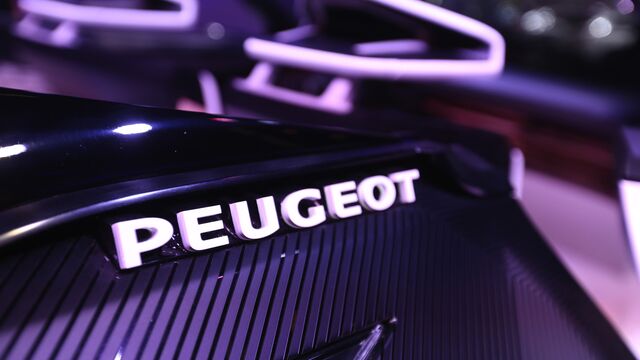 General Motors Co.'s Opel division and French competitor PSA Group lost market share to Fiat Chrysler Automobiles NV in Europe last month, underscoring the competitive pressures facing the carmakers as they consider combining operations in the region.
The GM unit and PSA's Peugeot, Citroen and DS brands together accounted for 16.4 percent of car sales in January compared with 17.1 percent a year earlier, the European Automobile Manufacturers' Association, or ACEA, said Thursday in a statement. That would make them the region's second-biggest auto manufacturer, after Volkswagen AG, if the two were to merge.
GM is in talks on a possible sale of Opel and its sister Vauxhall brand to Paris-based PSA. The U.S. company is considering exiting Europe, where it's lost $9.1 billion since 2009, hurt by a high cost base and pricing pressure. PSA fell behind French rival Renault SA last year to rank third sales in the region as it narrowed its model lineup.
A deal would allow the combined entity to cut costs and compete more aggressively against rivals that have taken away market share in recent years. Pressure is set to increase as the auto industry braces for a shift to self-driving, electric vehicles.
Read more: Why GM wants to sell Opel after nearly 90 years -- a Q&A
"While there can be no assurance of any agreement, any possible transaction would enable PSA Group and Opel Vauxhall to leverage their complementary strengths, enhancing their competitive positions for the future in a rapidly changing European market," GM Chief Executive Officer Mary Barra and Opel chief Karl-Thomas Neumann wrote in a note to staff in the U.S. and Germany.
Barra flew to Germany after news of the talks broke on Tuesday, to allay concerns from workers and politicians about potential job cuts. A sale would be better for everyone involved, the GM executives said in their memo.
German Economy Minister Brigitte Zypries, who's scheduled to discuss the possible deal next week with French counterpart Michel Sapin, criticized GM for not briefing worker representatives and the local government about the talks before they became public. Matthias Machnig, Zypries's deputy, will be the liaison for Germany's federal and state authorities on the deal, and he'll hold talks with Opel's labor representatives, according to a ministry official familiar with the matter.
"What is pretty clear is that the negotiations with Peugeot are advanced and more concrete proposals are imminent," said Len McCluskey, general secretary of Unite union that represents Vauxhall workers, told reporters Thursday in London. "We're not talking about days but equally we're not talking about months."
Tougher Competition
Industrywide registrations jumped 10 percent to 1.2 million vehicles, with demand at Fiat Chrysler leading gains with a 15 percent surge, ACEA said.
Volkswagen, Europe's biggest car manufacturer, held its market share stable at 24.2 percent in January versus a year earlier. Among the region's top 10 car sellers, Mercedes-Benz owner Daimler AG posted a 14 percent registration jump last month, Toyota Motor Corp. sold 12 percent more cars and demand at both BMW AG and Renault gained 10 percent.
Traditional carmakers are facing the challenge of keeping up with changes transforming the industry as young, urban residents increasingly turn to car-sharing and ride-hailing services, even as manufacturers face massive investments to lower emissions and develop self-driving features.
For PSA, buying Opel would help it to recapture market share while cutting costs, to free up cash for investing in new technologies. The U.S. manufacturer is seeking a multibillion-dollar amount for Ruesselsheim, Germany-based Opel because of the outlook for the improved operations, a personal familiar with the matter said on Tuesday.
PSA's Options
After years of restructuring, the French carmaker has a variety of options to fund the acquisition including digging in its cash pile, taking on more debt, or selling its 46 percent stake in car-parts manufacturer Faurecia.
As of mid-2016, PSA's net cash position amounted to almost 6 billion euros ($6.38 billion) compared with 4.6 billion at the end of 2015. The automaker has accumulated free cash flow of more than 7 billion euros since the end of 2013, just before the French state and China's Dongfeng Motor Corp. stepped in to save the company.
PSA Chief Executive Officer Carlos Tavares, who turned the company around following the 2014 rescue with a restructuring that included shutting a plant, freezing pay and weeding out under-performing models, last year shifted his focus to expansion.
"Financially, PSA could handle a takeover," analysts at Macquarie Capital Ltd. wrote in a note to clients. If the French manufacturer buys all of GM's European operations -- which they value at as much as 2.6 billion euros -- PSA will probably pay at least partly in shares, they said.
Shares Jump
PSA's shares have more than doubled since hitting bottom during the restructuring, and rose as much as 6.9 percent after the news broke on Tuesday. The stock fell as much as 1.1 percent Thursday and was trading down 0.4 percent at 18.47 euros as of 3:52 p.m. in Paris, valuing the manufacturer at 16 billion euros. GM shares slid 0.5 percent at $36.88 at 9:53 a.m. in New York.
Prospects of a European mega-deal come as the region's auto market shows signs of peaking after three years of growth. Deliveries are likely to slow this year as pent-up demand for new vehicles is increasingly satisfied and fallout from the Brexit vote threatens to damp U.K. purchases.
Germany and the U.K., the biggest markets for Opel and Vauxhall, are especially vulnerable to a slowdown. Germany started on the recovery path following the global recession before most of its neighbors, meaning that it's farther along the cycle, while auto sales in the U.K. are expected to contract this year amid concerns that Britain's vote to exit the European Union will hurt economic growth.
"There is some way to go in discussions between GM and PSA, but I was reassured by GM's intention, communicated to me, to build on the success" of its British operations "rather than rationalize them," U.K. Business Secretary Greg Clark said Thursday in an e-mailed statement.
— With assistance by Alex Morales, John Ainger, and Birgit Jennen
Before it's here, it's on the Bloomberg Terminal.
LEARN MORE