From Underdogs to Overheated: China Bank Stocks Are Surging
By
Earnings to improve and bad debt is stabilizing: analysts

Bank of China has rallied to highest level since August 2015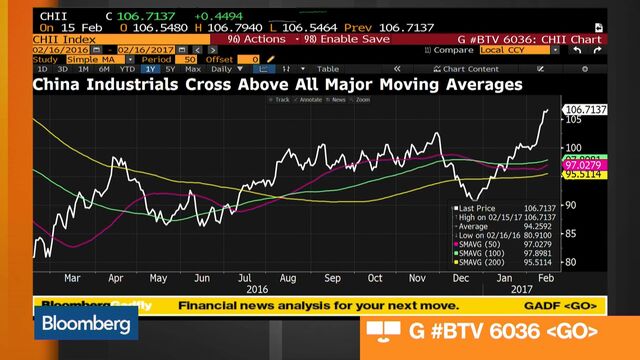 Chinese bank stocks have gone from cold to hot in a matter of days.
Take Agricultural Bank of China Ltd. After falling by an annual average of 2.7 percent since its Hong Kong listing in 2010, the cooperative lender has climbed 15 percent in a blistering eight-day rally. Bank of China Ltd., priced well below the value of its net assets for the past 1 1/2 years, has now soared to levels last seen in August 2015.
The turnaround is all the more surprising given persistent concerns about bad debt levels and a perception the state-owned lenders place the country's interests above those of shareholders. Bulls say modest monetary tightening in China will help lift profits, and soured loans are already stabilizing. Mainland funds, looking for a foreign currency-denominated home to put cash in, are drawn by banks' cheapness and relatively high dividend yields.

"A rising rate environment that's based on an improving economic foundation is good for the banks," said Richard Xu, an analyst at Morgan Stanley in Hong Kong. "You have rising rates and expanding margins, but credit quality is not deteriorating."
China's money-market rates have edged higher since August, with the benchmark seven-day repo rate jumping to a 19-month high this week, after the People's Bank of China raised the cost of liquidity facilities such as medium-term loans and open-market operations.
Stronger credit demand is adding fuel to the rally. Total financing reached an all-time high last month, with new loans the second-highest on record, data released late Tuesday showed.
Debt Fears
Bad debt is stabilizing because restructuring among industries suffering from overcapacity has improved credit quality, said Li Shanshan at BOCOM International Holdings Co., who's among the top three analysts for the Big Four banks. The industry's non-performing loan ratio was almost flat in the second and third quarters of last year, being 1.76 percent on Sept. 30.
That figure has little credibility to some investors. China's shadow banking sector is estimated by Moody's Investors Service to be worth about $8.5 trillion, while the nation's definition of NPLs is less strict than most developed countries.
Such concerns have kept BNP Paribas Investment Partners, which manages 556 billion euros ($591 billion), from adding H-share banks.
"Investors are still worried on a structural basis how China banks are going to recognize NPLs," said Arthur Kwong, Hong Kong-based head of Asia-Pacific equities. "At this moment NPL formation and total credit cost over the last couple of years are still quite below what the market is expecting to see."
Southbound Support
Shares may be overdue a pullback. Both Agricultural Bank and Bank of China have relative strength indexes of over 86, the highest among members of the Hang Seng China Enterprises Index, and far above the 70 level that signals to some traders prices are poised to drop.
Still, with mainland funds pouring across the border into Hong Kong equities, any decline may be short-lived.
Faced with poor returns at home, Chinese buyers are looking for stable companies with high dividend yields such as banks, according to Morgan Stanley's Xu.
China's Big Four lenders offer an average dividend yield of 5.2 percent, compared with an estimated 1.97 percent for the Shanghai Composite Index. Onshore bonds have plunged since last quarter amid monetary tightening, mainland stocks have been in the doldrums since a crash in 2015, and stricter regulation has slowed the growth of shadow-banking products. Net inflows into Hong Kong stocks through links with Shanghai and Shenzhen have totaled 46.9 trillion yuan ($6.8 trillion) this year.
For Dexter Hsu, an analyst at Macquarie Securities Ltd., the improving outlook for banks, as seen in the surging producer price index and buoyant housing market, matters more than the credibility of bad loan data.
"For us, the most important thing is that the trend is changing," Hsu said. "The rebound in PPI and rising property prices are all good for asset quality."
Before it's here, it's on the Bloomberg Terminal.
LEARN MORE