Fischer Echoes Yellen Seeing Economy on Fed's Rate Hike Path
By
Inflation and employment are consistent with Fed projections

Fischer reiterates that rate increases will be gradual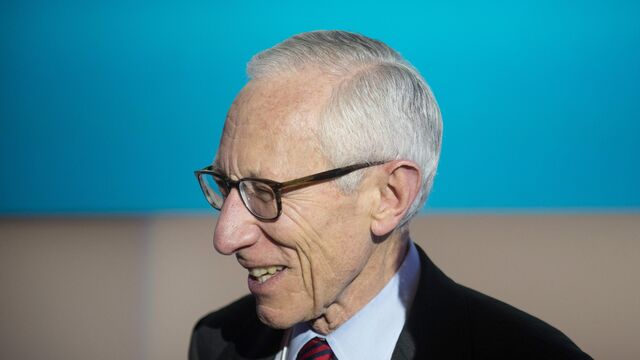 Federal Reserve Vice Chairman Stanley Fischer said the central bank is nearing its dual goals and seems to be headed for its anticipated monetary policy path, which officials' December projections put at three increases this year.
"I don't want to give you numbers on two or three, but this is consistent with what we had thought should be happening around now -- that is that we'd be moving closer to the 2 percent inflation rate, and that the labor market would continue to strengthen," Fischer said Thursday on Bloomberg Television in an interview with Tom Keene. "If those two things happen, we'll be on the path that we more or less expected."
Fed officials upgraded their 2017 outlook in their most recent economic projections, adding an extra increase to the two that they'd seen in September. Investors had expected this year's first hike to come in June until this week, when two days of relatively hawkish congressional testimony from Fed Chair Janet Yellen and a strong inflation reading for January boosted expectations for a rate increase as early as March or May.
In a separate interview on Bloomberg TV on Thursday, Atlanta Fed President Dennis Lockhart said favorable reports this week on U.S. consumer prices and retail sales "tell me the economy is on the path I expected or a little stronger" and that he could be persuaded that a March rate hike is appropriate.
'Go Either Way'
"Overall, I still feel what I saw at the beginning of the year as the path for the economy is what we are experiencing. I premised two rate moves on that outlook, he said. "I could probably go either way at this point based on what we have seen in recent data. I would caution everyone, however, not to overreact to one month's data."
The U.S. consumer price index rose 2.5 percent in January compared with the same month last year, the most since March 2012, Labor Department data showed Wednesday. The Fed's preferred inflation gauge, the personal consumption expenditures price index, remains below the central bank's 2 percent target. It finished last year with a 1.6 percent gain.
Yellen, in her testimony, preserved all options for the policy-setting Federal Open Market Committee, Lockhart said. "She kept the March meeting live, which is exactly what I think is the right posture at this moment," he said.
Yellen told Congress "the committee will evaluate whether employment and inflation are continuing to evolve in line with these expectations, in which case a further adjustment of the federal funds rate would likely be appropriate," while cautioning that "waiting too long to remove accommodation would be unwise."
The Fed is trying to avoid hiking rates too quickly and choking off growth at a time when labor market tightness is translating into slightly higher wages. At the same time, officials don't want to allow the economy to heat up so much that inflation substantially overshoots their 2 percent goal.
In the interview, Fischer noted that wage growth has "started happening," calling the incoming data on pay "not far off of where we thought it would be."

Wages aren't the sole encouraging sign: Unemployment is holding below 5 percent and long-depressed inflation is showing signs of accelerating, with the consumer price index gauge accelerating to 2.5 percent on a year-over-year basis in January. The latest reading on the Fed's preferred measure, an index produced by the Commerce Department, will be released March 1 and is expected to pick up toward 2 percent.
Even against an optimistic backdrop, Fischer painted a picture of slowly rising borrowing costs.
"We've said for a long time, we expect interest rates to be gradual, and if they reach the level of previous years it will be a matter of years," Fischer said in the interview. "We will be aiming and very likely will be close to 2 percent inflation and full employment, somewhere around where we are now, possibly a bit lower."
Fed officials, who raised rates by a quarter percentage-point in December and left them on hold earlier this month, will meet next on March 14-15.
New York Fed President William Dudley delivered a similar message in remarks on Wednesday evening, telling an audience in New York that if the economy stays on its anticipated track "we would expect to gradually remove further monetary policy accommodation, snug up interest rates a little further, in the months ahead."
Fiscal Stimulus
Policy makers upgraded their 2017 outlook in December partly because some officials began incorporating their assumptions about possible pro-growth fiscal policies into their projections. President Donald Trump has promised tax cuts, deregulation and infrastructure spending that could have growth impact if enacted.
Testifying on Capitol Hill this week, Yellen rejected suggestions that the central bank would lift rates in response to any changes Trump and Congress make to taxes and spending.
"Only if we think that it is demand-based and threatens our inflation objective," would the Fed react with a tightening of monetary policy, the Fed chief said.
For now, the White House has yet to detail its precise plans, so it's too early for the Fed to react to them.
"We haven't very much changed our view of where we will be" since the election, Fischer said. "We do expect the economy to be growing at a reasonable rate."
Fischer, 73, has been second-in-command at the Fed since 2014 and has a term that lasts until June 2018. He is formerly the Bank of Israel's governor and Citigroup's vice chairman.
— With assistance by Steve Matthews, and Kathleen Hays
Before it's here, it's on the Bloomberg Terminal.
LEARN MORE