markets
ECB Willing to Bend Its QE Rules in Push to Keep Up Stimulus
By
Central bank publishes account of Jan. 18-19 policy meeting

Officials see room for trade-off on asset-purchase rules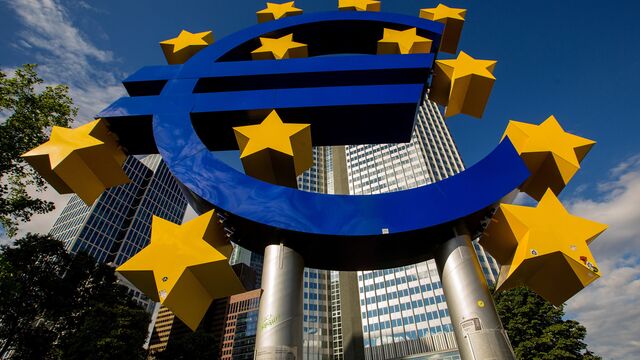 European Central Bank officials indicated that they'll relax the application of some rules on bond buying to help maintain their "substantial" expansionary policy, opening the door to more purchases of peripheral debt.
Italian and Spanish bonds rose after the ECB said in the account of last month's policy meeting that "limited and temporary deviations" from the capital key "were possible and inevitable" to ensure quantitative easing can be implemented as announced. Members of the Governing Council "widely" shared the view at their Jan. 18-19 meeting that "it was imperative to maintain a very substantial degree of monetary accommodation."
"Mention of capital-key flexibility is like a red rag to a periphery bond bull," said Richard Barwell, an economist at BNP Paribas Investment Partners in London. "You can read this as good news for Italy -- either Germany buys a lot below the deposit rate or the Eurosystem buys too much of Italy. It's almost certainly misdirection though."
After the ECB altered its QE rules in December to allow for purchases of bonds yielding below the deposit rate, currently at minus 0.4 percent, Executive Board member Benoit Coeure emphasized that "priority should be given to purchases of assets with yields above the deposit facility rate." Flexibility in the application of the ECB's capital key provides "some room for a trade-off" between both guidelines.
Yields on Spanish 10-year bonds fell for the first time in three days by 7 basis points, and Italy's dropped by 6 basis points. German two-year yields gained 2 basis points.
Stimulus Debate
The account published Thursday feeds into a public debate over whether the ECB should react to accelerating price growth and a strengthening economy by unwinding QE and raising interest rates. Policy makers rejected speculation about a looming exit and reiterated their December commitment to buy assets until the end of 2017, pointing to still-subdued underlying inflation lacking signs of a "convincing upward trend."
Otherwise, "recent encouraging developments in inflation expectations and the prospects for a sustained adjustment in inflation towards the Governing Council's inflation aim could be put at risk," the account said.
The ECB's prolonged bond-buying program has met resistance in some countries, particularly Germany, after headline inflation levels have jumped on the back of higher oil prices. ECB President Mario Draghi said during the January press conference that officials would ignore transient gains as long as there are no convincing signs of an upward trend in underlying price pressures.
Some council members said that recent increases in energy prices haven't yet led to indirect or second-round impacts on broader price growth. "Such effects might materialize with a considerable lag." 
Core Inflation
Officials saw several reasons for weak core inflation. "Wage increases had overall remained subdued throughout the euro area and the muted wage dynamics had played an important role in the still broadly stable indicators of services price inflation," according to the account. Still, they stressed that their measures "were increasingly bearing fruit" and "appeared to be increasingly visible in developments in inflation expectations."
"Both downside and upside risks to the inflation outlook were seen to warrant close monitoring," the account said. Downside risks to economic growth "had receded somewhat and the case was made that overall the risks surrounding the scenario of a gradually firming recovery were starting to become more balanced."
The ECB is due to publish updated growth and inflation projections at its next meeting on Mar. 9, which might also guide any future adjustments to its asset-purchase program. Price growth has accelerated faster than forecast to 1.8 percent in January, while core inflation hasn't topped 1 percent in more than a year.
The account showed that Coeure also reviewed recent changes to the ECB's securities lending program, which had been "welcomed by market participants." Officials agreed to "carefully monitor market developments and the use of the securities lending facilities, and stand ready to make further adaptations, if needed."
(
Updates with market reaction in fifth paragraph.
)
Before it's here, it's on the Bloomberg Terminal.
LEARN MORE