CFPB, Cordray, Win Second Chance to Avoid a Trump Firing
Andrew Harris and Elizabeth Dexheimer
U.S. appeals court to rehear challenge to bureau's power

Previous panel ruling stripped director of job security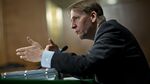 The Consumer Financial Protection Bureau and embattled director Richard Cordray won a second chance to defend his independence from the political pressure of being fired at any time for any, or no, reason by President Donald Trump.
A U.S. appeals court in Washington on Thursday granted the CFPB's request to reconsider an October decision that stripped Cordray of his job protection, which left him at the mercy of Trump and a pro-business Republican-led Congress looking to rescind financial regulations put in place by the Obama administration after the 2008 fiscal crisis.
A CFPB spokesman declined to comment on the ruling. Helgi Walker, an attorney representing PHH Corp., the mortgage company that sued the agency, said her client was "subjected to a fundamentally unfair order" from an agency she called "unconstitutionally structured." 
"We are confident that we will prevail before the full D.C. Circuit," Walker said in an e-mail.
The do-over comes as the new president vows to repeal 75 percent of all U.S. regulations, adding to a pre-election promise to dismantle the 2010 Dodd-Frank financial reform legislation under which the CFPB was created. It also arrives amid mounting legal challenges to Cordray's authority and that of the bureau, which was created to shield ordinary citizens from financial industry predation.
The director's future has been uncertain ever since Trump's surprise win in November. Republicans have repeatedly called on the president to dismiss him and Trump could still try to find grounds to fire Cordray for cause. Lawmakers are also considering legislation that would change the CFPB's leadership from a single director to a five-person commission or shift the bureau's funding source from the Federal Reserve to Congress, enabling them to starve it of money.
'Hot Seat'
In the earlier ruling by a three-judge panel, the appeals court wiped out $109 million in penalties imposed on a New Jersey-based mortgage company that the CFPB said had violated federal real-estate transaction rules. Two of the judges then went a step further, deciding that Cordray's solitary leadership of the agency and his insulation from being fired for anything but cause endowed him with too much power and not enough accountability.
While the panel stopped short of granting the company's request to strike down the bureau itself, reopening the case puts that issue back in play.
"The road ahead for Director Cordray remains the same," said Isaac Boltanksy, a financial services analyst at Compass Point Research & Training LLC. "He's still on a hot seat, but it's not on fire yet."
U.S. Representative Jeb Hensarling, chairman of the House Financial Services Committee, said the ruling has no bearing on President Trump's authority to remove Cordray for cause. "I encourage President Trump to take immediate action to uphold the Constitution by reining in this unconstitutional and out-of-control agency," he said in a statement.
A group of Democratic senators, including Richard Durbin of Illinois and Patty Murray of Washington, wrote Trump Thursday urging him to not fire Cordray. "Yielding to calls for his removal are not only ill-advised, they are illegal and will lead to restoring power back to the very interests from which you vowed to protect the American people," they wrote.
Re-Hearing Set
An expanded panel will hear the re-argument on May 24, including the trio who initially heard the case in April. Chief Judge Merrick B. Garland who is again hearing cases after stepping back while his Supreme Court nomination was pending, didn't participate in the decision to reconsider the matter and won't be a part of that panel.
While the case pressed by the Mount Laurel, New Jersey-based PHH Corp. had drawn backing of the U.S. Chamber of Commerce, Competitive Enterprise Institute, National Association of Realtors and other groups prior to the initial court ruling, the outcome spurred pushback from those who support the bureau's mission.
Sixteen states' attorneys general, all Democrats led by Connecticut's George Jepsen, on Jan. 23 petitioned the court for permission to intervene. Three days later, the ranking Democratic Party members of the U.S. Senate Banking and House of Representatives Financial Services committees sought to do the same, giving the agency another layer of advocacy if the Trump administration abandons its defense.
Also weighing in on behalf of the CFPB are Americans for Financial Reform, the Consumer Federation of America, the U.S. Public Interest Research Group and one of the bureau's biggest proponents, Democratic Senator Elizabeth Warren of Massachusetts.
The three-judge panel had found the CFPB was "unconstitutionally structured." The agency had punished PHH for referring customers to insurers who then purchased reinsurance from a PHH subsidiary. CFPB determined those payments were part of an illegal kickback scheme.
"This stretches out the timeline for the next chapter of the CFPB and its director," said Jonathan Pompan, a consumer finance lawyer at Venable LLP in Washington, on the appeals court ruling. "The CFBP has so far been acting like 'business as usual', and we'd expect to continue to see that."
The case is PHH Corp. v. Consumer Financial Protection Bureau, 15-1177, U.S. Court of Appeals, District of Columbia Circuit (Washington).
(
Corrects to reflect that Judge Garland will not participate in rehearing.
)
Before it's here, it's on the Bloomberg Terminal.
LEARN MORE