Your Evening Briefing
Here are today's top stories.
by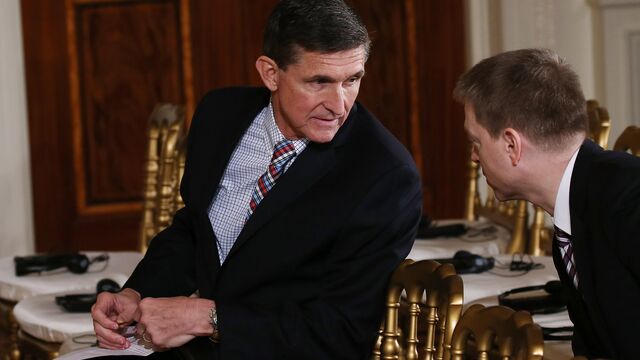 Want to receive this post in your inbox every afternoon? Sign up here.
Americans are more stressed than ever, which shouldn't come as much of a surprise to anyone living in America who owns a smartphone or TV. A new poll from the American Psychological Association shows that the nation's stress levels in January were even worse than in August, in the thick of the angriest campaign in recent memory.
That stress penetrates party lines—including 76 percent of Democrats and 59 percent of Republicans—and age groups. While some believed anxiety levels would decrease after the election, once the campaigning wound down, it seems to be steadily moving in the opposite direction. —Megan Hess
Questions about ties between President Trump's team and Russian intelligence agents mounted after new reports of extensive contacts between the two. This comes as top Republicans say Congress needs to take a hard look at Trump's links to the country after his ousting of national security adviser Michael Flynn, who the administration says may have misled the president and vice president about his communications with a Russian envoy.
Puzder's out. In a statement, Andrew Puzder said he is withdrawing his nomination for labor secretary. It comes amid rising controversy over his personal life and private sector background: The fast-food executive's nomination was shadowed by divorce-court proceedings that included a domestic-abuse allegation, as well as his admission that he employed an undocumented housekeeper. 
Americans are more stressed than ever. When the American Psychological Association conducted a poll in January to check on the nation's mental health, the results weren't pretty. At 57 percent, more than half of respondents said the current political climate was a very or somewhat significant source of stress. The poll's results show a "statistically significant increase in stress for the first time since the survey was first conducted in 2007," the APA said.
Nearly all of Kim Jong Un's potential rivals are now dead. The young dictator's half-brother, Kim Jong Nam, represented a possible alternative if elites ever moved to oust Kim Jong Un. Following his assassination this week, Malaysian police arrested a female suspect carrying Vietnamese travel documents, and are looking for others who may be involved. While much remains mysterious about Kim Jong Nam's death, it's clear that Kim Jong Un is consolidating power.
Yahoo for a discount. Verizon is close to a renegotiated deal for Yahoo's internet properties that would reduce the price of the original $4.8 billion agreement by about $250 million after the revelation of security breaches at the company, according to people familiar with the matter.
America's tallest dam is suddenly in danger. Events in northern California in the past week have unspooled like the beginning of a disaster movie, with a partial collapse of the Oroville Dam's main off-ramp for high water, and dangerous erosion beneath an emergency spillway. Nearly 200,000 people downstream were evacuated, and engineers are racing to lower water levels at Lake Oroville before storm clouds open up again.
Dogs (and cats) are ready for their close-ups at Westminster. Meet the canine breeds—and welcome some felines—at the 141st Westminster Kennel Club Dog Show this week. Even if you're not an animal person, your heart will melt a little at these photos.

Before it's here, it's on the Bloomberg Terminal.
LEARN MORE