Venture Capital
The Business of Blood Can Be Tough for a Female Entrepreneur
Try convincing a roomful of men that there is money to be made in women's hygiene products.
by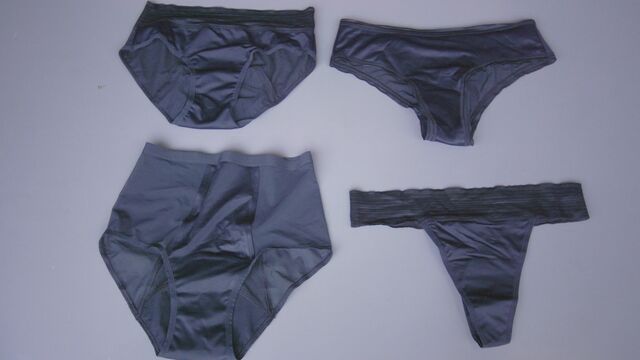 Miki Agrawal has a three-part strategy for getting someone to embrace an uncomfortable new behavior. In the case of her startup, she's trying to convince women to ditch their feminine-hygiene products for a pair of reusable period panties.
The first component is the product itself: The underwear is thin but, to most wearers' surprise, can absorb up to two tampons' worth of blood, according to Agrawal. The second and third ingredients involve clever marketing. The imagery should be artful and striking—for her Thinx panties, that means the ads are minimalist, featuring halved ruby grapefruits and dripping raw eggs as stand-ins for menstruation.
The language, on the other hand, should be cheeky and familiar. "We started by trying to be too technical, too medical, too clinical, too academic—'patented technology, four layers of yada-yada,'" Agrawal said. "Instead, we're like, 'Yes, they're totally reusable, and yes, it's super liberating. Boom.' The way we write, it's like you're texting your best girlfriend."
Thinx, which sells leak-proof and washable underwear designed to be reused by women during their periods, is the subject of the latest episode of Ventures, a Bloomberg Technology video series about startups.
While Agrawal has been especially effective at selling period-proof underwear, her New York startup didn't invent the idea. One predecessor was called Sexy Period, a name that founder Julie Sygiel chose because it was empowering and unexpected. But Sygiel said she eventually realized it was turning off customers. So Sexy Period became Dear Kate. "There are other people who tried to make period underwear before us," said Sygiel, who left the company last year. "You've never heard of them because the marketing was so uncool, for lack of a better word."
Thinx came about after a similar realization. It used to be called Prance before Agrawal ditched the brand. "I thought about how annoying the name Prance would be to say," she said. Despite not being the first menstrual underwear maker, Thinx's main challenge since Agrawal helped start it in 2013 has been to make women feel comfortable with the concept. As Agrawal puts it, "How can you go from sticking a tampon inside of yourself to bleeding into your underwear, you know?"
Raising venture capital was even tougher. In 2013 and 2014, Agrawal tried pitching roomfuls of mostly male VCs, who squirmed at the thought of period blood, she said. Thinx had to find backers on Kickstarter and Indiegogo. Later, it raised a small amount from investors.
Since then, Thinx's business has grown to include a line of absorbent panties for women with urinary incontinence, an easy-to-install bidet and a line of reusable bamboo butt towels for those who don't want to kill trees with toilet paper. Because Thinx uses outside manufacturers to make its products, much of the startup's staff is focused on keeping its brand top of mind for women. Almost a quarter of its 35 employees are on the creative team, responsible for, among other things, cranking out three e-mail newsletters a week, including one called This Week in Feminism.
Before it's here, it's on the Bloomberg Terminal.
LEARN MORE