Risk Rally Eases as U.S. Stocks Slip, Bonds Climb: Markets Wrap
Eddie van der Walt and Jeremy Herron
S&P 500's seven-day rally in jeopardy, dollar weakens

Gold advances with Treasuries, crude climbs past $53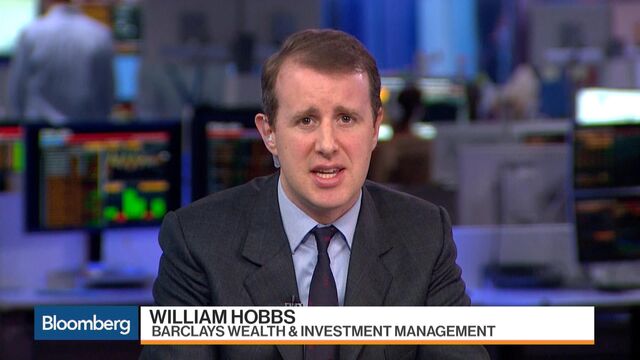 Most U.S. stocks fell after the longest rally in three years, Treasuries rose for the first time in six days and the dollar weakened as the torrid advance in riskier assets eased with investors awaiting details on the Trump administration's pro-growth policy promises.
The S&P 500 Index slipped 0.1 percent, with three shares sliding for every two that gained, while the Dow Jones Industrial Average eked out an advance to close at a fresh record. Investors took stock after a weeklong rekindling of Trump trades amid optimism that the economy can withstand higher interest rates. Data Thursday did little to alter that view, with housing starts topping estimates. Still, bonds advanced, sending the 10-year yield lower by six basis points. Gold rose and European shares slid for the first time in eight days. The dollar weakened.

"Following the sharp rally we've seen in cyclical shares since early November, investors are now getting reluctant to just buy whole sectors, and are starting to pick the best stocks within the sectors," Stephane Ekolo, chief European strategist at Market Securities in London.
President Donald Trump's comment last week that his administration would soon unveil a "phenomenal" tax policy spurred a rally in everything from stocks to the dollar and emerging assets. Signs the gains have come too far too fast emerged, with the relative strength index of the MSCI's broadest global equity gauge signaling to some traders a correction is now due, while odds for a U.S. rate hike in March are on the rise.
Read our Markets Live blog here.
Here are the main moves in markets:
Stocks
The S&P 500 Index fell 0.1 percent at 4 p.m. in New York, after the longest rally since 2013. Utility and phone shares advanced as the bond gains boosted the appeal of their dividends.
The CBOE Volatility Index and S&P 500 Index moved in unison on Wednesday for the ninth time this year. The behavior has become increasingly frequent: The two measures are moving in tandem by the most since 1995. The VIX fell 0.8 percent Thursday.
The Stoxx Europe 600 Index fell 0.4 percent, the first decline since Feb. 6, with only technology, health care, leisure and telecommunications shares eking out gains.
The MSCI All Country World Index climbed 0.1 percent, while emerging-market stocks added to its highest level since July 2015.
The MSCI Asia Pacific Index added 0.5 percent, though more stocks fell than rose. Chinese shares traded in Hong Kong extended a rally and the Hang Seng climbed to the highest since August 2015.
Currencies
The Bloomberg Dollar Spot Index lost 0.3 percent, trimming losses of as much as 0.4 percent after the U.S. housing and jobs data.
The yen appreciated 0.8 percent to 113.212 per dollar, the best performance after the Swiss franc in a basket of 17 peers.
Bonds
The yield on 10-year Treasuries dropped four basis points to 2.45 percent after increasing 16 basis points in the prior five days.
The move to lower U.S. corporate income tax rates and end net interest expense deduction "could have severe implications" for highly leveraged firms as near-term maturities come up for refunding, S&P says in report.
Yields on 10-year Spanish notes fell nine basis points to 1.59 percent while the rate on similar Portuguese debt decreased 11 basis points to 3.96 percent.
Commodities
Oil advanced 0.6 percent to $53.44 a barrel after a government report on Wednesday showed U.S. crude inventories rose to the highest levels in weekly data going back to 1982.
Oil has held above $50 a barrel since the Organization of Petroleum Exporting Countries and 11 other nations started trimming supply on Jan. 1.
Gold climbed for a third day, gaining 0.6 percent to $1,240.40 an ounce.
Before it's here, it's on the Bloomberg Terminal.
LEARN MORE