Russia Urges Trump to Keep Pledge on Relations Amid Crimea Row
By
Ruble slides after Trump says Crimea 'taken' in Obama's term

Kremlin rejects allegations Trump team met with Russian spies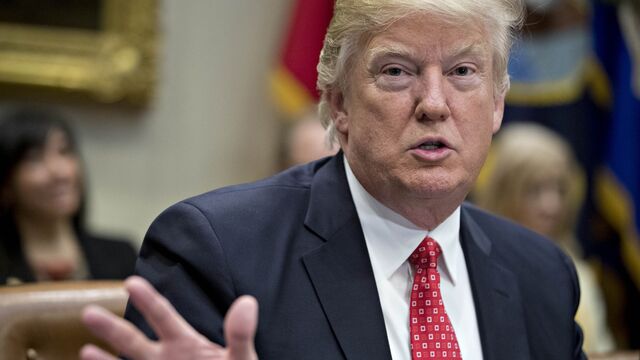 Russia called on U.S. President Donald Trump to live up to his pledge to improve relations, amid growing unease in Moscow that he may not lift sanctions imposed over the crisis in Ukraine.
"Crimea was TAKEN by Russia during the Obama administration. Was Obama too soft on Russia?" Trump said on Twitter Wednesday. Senior officials in Moscow had earlier criticized White House spokesman Sean Spicer for saying on Tuesday that the president expects Russia to "return" the Black Sea peninsula annexed from Ukraine in 2014.
Spicer's comment on Crimea is at odds with Trump's campaign pledge to restore relations, Vyacheslav Volodin, speaker of the Russian lower house of parliament, told lawmakers Wednesday, the Interfax news service reported. "Everything will be fine" if the president fulfills his election program, Volodin said.
Optimism is fading in Moscow that Trump's presidency marks a new era in relations amid the fallout from Monday's resignation of U.S. National Security Adviser Michael Flynn. He left over contacts on sanctions that he had with the Russian ambassador to Washington. Trump said before his election that he may end the U.S. penalties imposed over Russia's annexation of Crimea and support for separatists in eastern Ukraine, as he seeks to cooperate with President Vladimir Putin in fighting against international terrorism.
'Cover Up'
Crimea is a part of Russia and its status won't be discussed with the U.S., while news reports that Russian intelligence officers met repeatedly with members of Trump's election campaign "aren't based on any facts," Kremlin spokesman Dmitry Peskov told reporters on a conference call. Contacts with Trump's team were "normal diplomatic practice," he said. Russia's Foreign Intelligence Service declined to comment on what it called "unsubstantiated speculation."
The "Russian connection non-sense" is an attempt to "cover up the many mistakes" of Democratic Party candidate Hillary Clinton's losing campaign, Trump said on Twitter.
Russia's ruble extended its decline against the dollar after Trump's comments, falling as much as 1.4 percent before regaining ground to trade 0.6 percent weaker at 57.4125 at 6:00 p.m in Moscow. The currency earlier broke five days of gains after the Kremlin announced that Putin plans to discuss the currency's appreciation with Economy Minister Maxim Oreshkin on Wednesday. The ruble has strengthened by nearly 7 percent so far this year, the best performance among emerging market currencies, according to data compiled by Bloomberg.
'Sanctions Moderation'
The new administration may be moving "tighter behind the existing U.S." policy on Russia and Ukraine in an effort to "call off the hawks in Congress" over investigations into Flynn's resignation, Timothy Ash, senior strategist at Bluebay Asset Management, said in an e-mailed note.
The political controversy is setting the scene for the first encounter between Russian Foreign Minister Sergei Lavrov and U.S. Secretary of State Rex Tillerson. They plan to meet Thursday at the G-20 foreign ministers' summit in Bonn, according to Russian Foreign Ministry spokeswoman Maria Zakharova.
While Russia's committed to restoring ties, there are forces in the U.S. "who are trying to push anti-Russian stereotypes" to pressure the Trump administration, Valentina Matviyenko, speaker of Russia's upper house of parliament, said Wednesday, according to Interfax.
Military Tensions
Military tensions are also resurfacing for the first time since Trump's election in November. Russia is complying with the Intermediate-Range Nuclear Forces Treaty, Peskov said, after the New York Times reported that the Russian military has deployed a new cruise missile that U.S. officials say violates the pact.
The Defense Ministry in Moscow rejected allegations that its jets came close to a U.S. warship in the Black Sea last week, saying in a statement that all its aircraft flew over neutral waters in accordance with international rules.
Russia may be breaching the missile treaty intentionally to start a dialogue with the U.S. on other aspects of the accord, said Mikhail Barabanov, a Moscow-based military researcher.  Russia regards U.S. deployment of military drones and missile-launchers in Europe as violations of the agreement, he said.