Health Companies Think Fat-Freezing Is the New Botox
By
Allergan, Hologic do back-to-back deals for body sculpting

Medical aesthetics market projected at $10.5 billion by 2020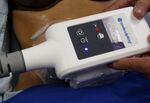 At Dr. Larry Fan's plastic surgery practice in San Francisco, patients are clamoring to get their unwanted fat chilled away. Big drug and medical device companies have noticed.
They're known as non-invasive slimming procedures. In one, a device placed on fatty parts of the body cools the area to freezing temperatures -- killing vulnerable fat cells. With no knives or anesthesia required, the procedures are "wildly popular" across all ages and with both men and women, said Fan, even at up to $4,000 for each treatment session.
The growing cosmetic trend is drawing corporate buyers. Two deals were struck within 24 hours this week: On Monday, drug giant Allergan Plc agreed to pay $2.48 billion for Zeltiq Inc., the manufacturer of CoolSculpting. On Tuesday Hologic Inc., a mammography machine maker, bought Cynosure Inc. for $1.65 billion on Tuesday for fat- and hair-removal devices and other aesthetic dermatology products.
"Body contouring in our view is where facial injectables were 10 years ago," said Allergan Chief Commercial Officer Bill Meury, comparing CoolSculpting to Allergan's popular Botox injections. "It has excellent future growth prospects."
Allergan estimated in a 2015 presentation that the market for medical aesthetics, including laser hair removal, fillers and body sculpting, would grow to $10.5 billion by 2020, up 36 percent from 2017. In a statement Monday, Allergan said body contouring alone is a market opportunity of about $4 billion a year.
Cash Payments
At a time when politicians all the way up to President Donald Trump are cracking down on medicine pricing, aesthetic medicine has a further attraction: Most patients pay in cash when the procedure is not deemed medically necessary, avoiding the insurance payment system.
That provides diversification for companies like Hologic and Allergan. "It takes away the attention from the noise around regulation," said Evercore ISI analyst Vijay Kumar. "You just let the market decide how good a product is."
The CoolSculpting procedure was cleared by the Food and Drug Administration in 2010. Applicators placed on the skin use vacuum pressure to cool the underlying fat tissue, triggering cell death. The destroyed fat cells are then cleared away by the body in a process that takes about three months. Another method developed by Cynosure, called SculpSure, kills fat cells with lasers.  
While not as dramatic or quick a change as liposuction, side effects are milder. Some patients experience bruising, swelling or numbness that resolves in a few weeks, according to the CoolSculpting website. Since the fat cells are killed, the effects are permanent. Most patients only need one or two sessions to sculpt the targeted body parts, said Fan.
Bringing in Men
Part of the rapid growth has been fueled by male customers in a market traditionally dominated by female clientele. About 20 percent of CoolSculpting patients are men, according to a slide presentation by Allergan.
At the Trifecta Health Medical Center in New York City, director Edward Fruitman said about 30 percent of his patients for aesthetic medicine procedures are men. "Especially in New York City, there's a youth culture," he said, adding that he treats many 50-year-old men. And unlike a tummy tuck, patients don't need to stay home to recover, he said.
Since less-invasive procedures can be learned by dermatologists and aren't limited to highly trained plastic surgeons, offices that already offer filler Botox injections can easily add on body sculpting procedures. "One treatment can be come a gateway to other aesthetic treatments," said Bloomberg Intelligence analyst Elizabeth Krutoholow.
Marketing to Doctors
Cynosure has even gone beyond the traditional aesthetics practitioners and marketed to obstetricians and gynecologists, who comprise 60 percent of sales, according to Kumar.
More deals may be coming. Potential targets could include Cutera Inc. and Syneron Medical Ltd., whose shares jumped after the takeover announcements.
Cynosure reached out to Hologic after receiving an unsolicited offer from another company, Hologic Chief Executive Officer Stephen MacMillan told shareholders on a conference call. Allergan hasn't said whether there was competition for Zeltiq, but Leerink analyst Richard Newitter noted the price was high and speculated that other bidders could have included Nestle SA's dermatology unit Galderma, German drugmaker Merz Pharma GmbH, and Shanghai Fosun Pharmaceutical Group Co.
To Fan, the acquisitions are no surprise. "If someone said to you, 'What if you could lose some fat and not have to go through surgery, would you be interested in that?' Everyone raises their hand."
Before it's here, it's on the Bloomberg Terminal.
LEARN MORE