ABN Amro Profit Rises on Interest Income, Lower Provisions
By
Restructuring costs weigh on fourth-quarter operating profit

Profit helped by lower provisions set aside for risky loans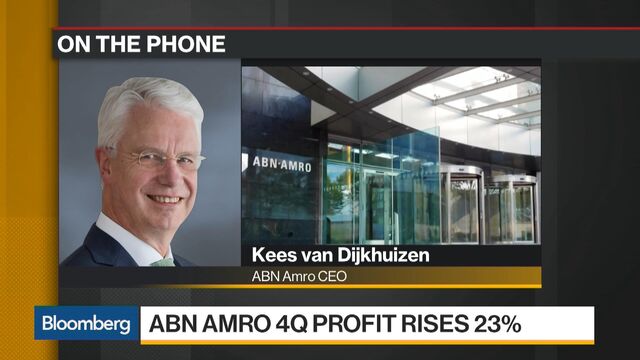 ABN Amro Group NV, the state-controlled Dutch lender, reported a 23 percent increase in fourth-quarter profit, helped by higher net interest income and lower provisions set aside for risky loans.
Underlying net income, which strips out one-time items, rose to 333 million euros ($352 million) from 272 million euros a year earlier, the Amsterdam-based company said in a statement on Wednesday. Net interest income rose 5 percent and impairment charges declined 72 percent.
ABN Amro was bailed out in the financial crisis and transformed itself from one of the world's largest banks to a consumer lender focused on the Netherlands. Chief Executive Officer Kees van Dijkhuizen, who took over the top job this year, is working to implement some 1,500 job cuts announced last year and complete a privatization that started when the government returned the bank to the market in an initial public offering in 2015.
As part of the job reductions, ABN Amro plans to cut 60 of its 100 senior management jobs and reduce the number of top executives by more than half in a revamp that reflects the bank's shrinking size, it said earlier this month.
"Trends in net interest income were encouraging and should be supportive for consensus earnings estimates," Anke Reingen, an analyst at RBC Capital Markets, said in a note to clients. The CET1 capital ratio, a measure of financial strength, was "higher than expected" at 17 percent," she wrote.
Restructuring Costs
Operating profit declined 7 percent to 489 million euros in the quarter as the lender booked restructuring provisions of 204 million euros, mainly for the job cuts announced last year, and regulatory levies of 120 million euros.
"Net interest income has been very robust. We have seen loan growth in all our major loan books," van Dijkhuizen said in an interview on Bloomberg TV. "That gives a volume driver with respect to net income going forward on the back of a better economy."
The lender's underlying cost-to-income ratio widened to 65.9 percent last year compared with 61.8 percent in 2015. Excluding restructuring costs, the measure would be 61.8 percent, ABN Amro said.
ABN Amro climbed 2.4 percent to 22.05 euros in Amsterdam trading as of 9:42 a.m. The stock has gained 5.5 percent in this year, compared with a 2.8 percent increase in the STOXX 600 Banks Index.

ABN Amro said it plans to pay a final dividend of 44 cents a share for 2016, that's an increase from an estimate of 40 cents in August.
The state owns 70 percent of ABN Amro after selling 7 percent last year to take advantage of a rising stock price. The Dutch government has said it plans to gradually exit its holding, after initially selling a 23 percent stake in the lender's IPO in November 2015.
The bank is dealing with an internal probe that found some of its advisers copied signatures in violation of the bank's internal rules. The lender said in December it would fire some of the mortgage advisers and eliminate bonuses for others. Finance Minister Jeroen Dijsselbloem has said the wrongdoing amounted to fraud and was "very serious," even if the borrowers suffered no material damage.
— With assistance by Manus Cranny, Martijn Van Der Starre, and Anna Edwards
Before it's here, it's on the Bloomberg Terminal.
LEARN MORE