Trump's Defense Pick Mattis to Focus NATO Members on Spending
By and
Europe's contribution still a long way off 2 percent pledge

Trump has underlined strong NATO commitment, Stoltenberg says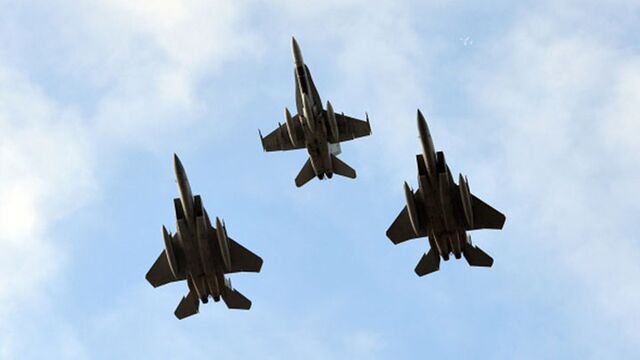 U.S. Defense Secretary James Mattis heads to his first NATO meeting on Wednesday, with his European counterparts seeking reassurance of the U.S.'s commitment to trans-Atlantic cooperation. The alliance is struggling to boost defense spending in the face of U.S. criticism that Europe isn't pulling its weight.
Exactly a month after President Donald Trump described the North Atlantic Treaty Organization as obsolete, defense ministers from the alliance's 27 other countries will seek reassurances about the new administration's loyalty. Faced with Trump's calls to spend more on their own security, the Europeans will at the two-day meeting in Brussels restate their pledge to invest 2 percent of gross domestic product on defense by 2024, but will likely avoid commitments to accelerate the process.
Trump "expressed his strong commitment to NATO and the trans-Atlantic bond," in two private telephone conversations, NATO Secretary General Jens Stoltenberg told reporters in Brussels on Tuesday. "But, at the same time, President Trump has in both phone calls also underlined the importance of fair burden-sharing" and meeting the 2 percent target, he said.
During his election campaign and in an interview since his victory, Trump demanded that European nations contribute a larger share to their defense. Currently, the U.S. accounts for about 70 percent of the alliance's overall defense expenditure.
Defense Spending
While only five NATO members meet its target to spend 2 percent of their GDP on defense, expenditures increased in 2016 for the first time since 2009. Among European countries and Canada, it grew 3.8 percent, or about $10 billion, Stoltenberg said on Tuesday.
"We stand together, we depend on each other and that is good for both Europe and North America," Stoltenberg said. "I'm confident that defense ministers at our meeting tomorrow and the day after tomorrow once again are going to reconfirm the enduring importance of the trans-Atlantic bond."
NATO's European members are still smarting from the comments Trump made in newspaper interviews published on Jan. 15, a NATO official said, speaking on condition of anonymity because the discussions are private. Mattis still has work to do to convince them of the new president's commitment to the alliance, the official said.
In an article with Germany's Bild, Trump was reported as saying that while trans-Atlantic military alliance is important, it "has problems."
'It's Obsolete'
"It's obsolete, first because it was designed many, many years ago," Trump said. "Secondly, countries aren't paying what they should" and NATO "didn't deal with terrorism."
Defense ministers will use the meeting to discuss how and whether to increase NATO's role in fighting terrorism. Currently, NATO's work in this area is limited to raising countries' awareness of the terrorist threat, helping them prepare, and providing AWACS surveillance aircraft to support the global coalition fighting Islamic State.
The Trump administration's intentions on this issue are still unclear and need to be fleshed out at this week's meeting and in the coming days, the NATO official said.
Before it's here, it's on the Bloomberg Terminal.
LEARN MORE