Samsung's Lee Again Faces Arrest Warrant in Graft Probe
by
Special prosecutors again seek to take Jay Y. Lee into custody

Lee family scion faces allegations of influence-peddling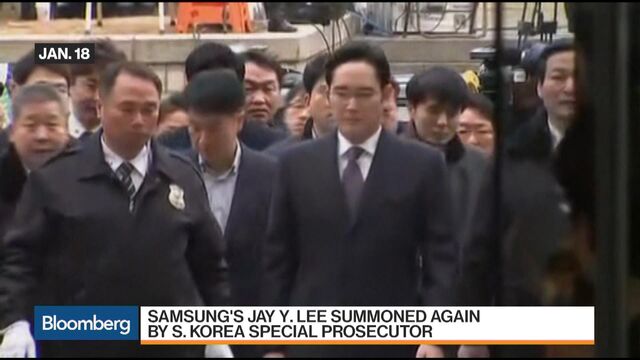 South Korean prosecutors are again seeking to arrest Samsung Group's Jay Y. Lee, citing new allegations of bribery and dealing another blow to a business empire mired in a nationwide corruption scandal.
Investigators want Lee taken into custody, after a first attempt in January was rejected by a court due to a lack of evidence, said Hong Jung-seok, a spokesman for the special prosecutor's team overseeing the probe. On Wednesday, prosecutors will outline specific reasons for going after the heir apparent at Samsung a second time, with a court hearing on the warrant set for Thursday.
Korea's biggest corporation and billionaire Lee lie at the heart of an investigation into influence-peddling that's already led to the impeachment of South Korean President Park Geun-hye. The probe into whether Samsung paid for political favors could complicate succession plans at the electronics-to-finance conglomerate that's also the economy's biggest driver.
"It looks like the special prosecutor is pretty confident about the new evidence it must have found," said Kang Shin-up, an attorney at the Hana law firm. "But without questioning president Park, I still doubt if the court can accept the arrest warrant this time."
Special prosecutors have been denied access to the Blue House -- South Korea's traditional seat of power similar to the White House -- to question Park.
Lee, who's in line to succeed his ailing father, returned home in the early hours of Tuesday after 15 hours of questioning over the influence-peddling allegations. He left the special prosecutor's office around 1 a.m. Tuesday without answering questions from reporters.
"In addition to bribery, embezzlement and perjury, more charges will likely be added," Hong said earlier on Tuesday.
The 48-year-old vice chairman of Samsung Electronics Co. is accused of participating in payments the chaebol made to a close friend of President Park, allegedly in exchange for government support of a 2015 merger of affiliates that cemented his control of the group. Lee has denied wrongdoing and said Monday morning before his marathon interrogation that he would "earnestly" speak to prosecutors.
Samsung Group, which oversees nearly 60 affiliate companies, has denied allegations it provided financial aid to Park's confidante, Choi Soon-sil, in return for political favors.
"Samsung has never made unlawful offer or paid bribes to the president in exchange for favors," the group said in an e-mailed statement Tuesday. "We will do our best to reveal the truth in court."
The prolonged investigation into the scandal has already had an impact, with some major management plans being delayed.
Samsung Electronics shares fell 1 percent Seoul Tuesday before the warrant request was announced. The stock has remained resilient amid the controversy and are up about 4 percent this year.
Lee spent most of Monday at the investigator's office alongside two other executives. Prosecutors will also seek an arrest warrant for Samsung Electronics President Park Sang-jin, Hong said. A total of five Samsung executives have been investigated in relation to the scandal.
Before it's here, it's on the Bloomberg Terminal.
LEARN MORE