Poland Wants to Poach Thousands of U.K. Finance Jobs
By and
Poland is for EU unity based on common sense, not extremes

Deputy Premier Morawiecki woos Goldman, HSBC to shift staff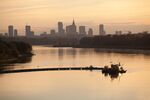 Poland is seeking to fill the space between "Le Pen and the Eurocrats" in talks over the U.K.'s departure from the European Union and is pushing to win tens of thousands of jobs from Britain's financial sector, a top government official said.
The conservative Law & Justice-led cabinet, which has drawn criticism from EU leaders for backsliding on democracy, sees euroskeptic French presidential candidate Marine Le Pen and the European officials pushing for deeper integration as two extremes, Deputy Prime Minister Mateusz Morawiecki said in an interview on Tuesday. Both are wrong, and Poland, which backs the "unity of Europe and the EU," will demand the trading bloc builds its relations solely based on "common-sense," he said.
"We don't want to punish, but we will be tough in the U.K.'s exit negotiations," Morawiecki, who is also finance minister, said at the prime minister's chancellery in Warsaw. "Extremes are wrong. We want to foster EU unity that's based on the four fundamental freedoms" -- the movement of people, goods, services and capital, he said.
As the largest country in the EU's ex-communist east, Poland is the biggest benefactor of EU development funds, of which the U.K. is the fourth-biggest contributor, with 107 billion euros ($113 billion) earmarked for 2014 to 2020. It has also seen more of its nationals emigrate to other states than any other eastern member, with about 1 million of Poland's 38 million people living in the U.K. alone.
Budget, Movement
The government in Warsaw has therefore pushed to secure future contributions to the EU budget while also protecting the rights of Poles to live and work abroad. Still, it has objected to both deeper integration, with Law & Justice leader Jaroslaw Kaczynski deriding the EU values of liberalism and multiculturalism as contrary to Poland's traditional conservative roots. The administration has also bridled against the idea of a two-speed Europe in which countries that use the euro may have more sway than those outside of the currency zone.
"Look at Denmark and Sweden -- they're not in the euro zone and nothing bad has happened," Morawiecki said. "Besides, look at the euro zone. It's facing enormous challenges that need to be solved. It's clearly not an optimal currency area."
Poland's zloty has gained 2.2 percent against the euro this year, outperforming its peers in the eastern EU. The zloty was virtually unchanged at 4.308 against the single currency at 4:30 p.m. in Warsaw.
Brexit Jobs
Still, Poland isn't on the list for a diplomatic charm offensive by U.K. Prime Minister Theresa May, who is trying to split the bloc's members and win allies in central and eastern Europe for the Brexit talks, a senior British official said last month. As May's government moves to increase lobbying staff and give ambassadors higher status in Slovenia, Slovakia and the Baltic states, Poland has joined other EU nations that are jostling to attract jobs that may flow out of Britain.
While Germany, France and Ireland are vying to coax big banks and their euro-clearing operations away from London, Poland and other lower-wage countries are wooing companies to resettle their back-office and other operations in the region's booming shared service centers. Negotiations between the government in Warsaw and Goldman Sachs Group Inc. and HSBC Bank Plc to shift staff to Poland are "going well," and the country expects to attract 30,000 jobs in its financial and software industries in the wake of Brexit, Morawiecki said.
He added that a 500 million euro engine plant deal with Germany's Daimler AG is also on track, while Volkswagen AG may increase production. The government is also "on the brink" of announcing further greenfield investments in the country, he said.
"Over the last three weeks, I've confirmed plans with Daimler and I will soon discuss a boost to output of Crafter vans with Volkswagen in the Polish plant," Morawiecki said.
Before it's here, it's on the Bloomberg Terminal.
LEARN MORE