business
Pimco to Investors: Don't Underestimate the Chance of a Fed Mistake
Adam Haigh, Ruth Liew and Matthew Burgess
Economy adviser Fels spoke to a conference in Sydney Tuesday

Fed Chair Janet Yellen to appear before Congress this week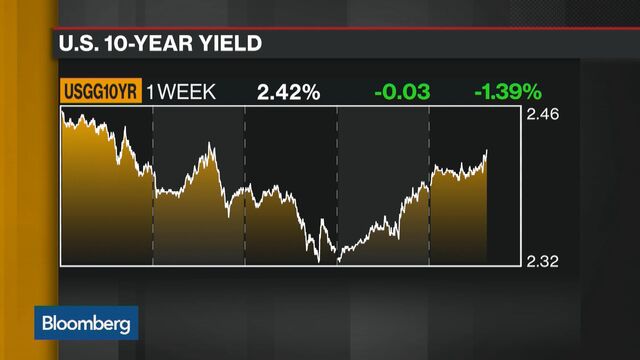 Pacific Investment Management Co. has a warning for investors: don't underestimate the chance of a misstep by the Federal Reserve.
The U.S. central bank may tighten monetary policy faster than markets expect over the next two years in part as changes to key staff affect the sway of decisions, according to Joachim Fels, Pimco's global economic adviser. Markets have ignored many risks as they focus on a potential boost from President Donald Trump's policies, he said.

Fels joins a swathe of investors questioning the outlook for the U.S. economy as the Fed grapples with a lack of clarity from the new administration, which may get to fill a number of spots at the central bank. BlackRock Inc. Chief Executive Officer Larry Fink and economists at Goldman Sachs Group Inc. have critiqued how pro-growth policies might struggle to emerge. Traders are awaiting appearances by Fed Chair Janet Yellen before Congress this week, with data expected to show an uptick in U.S. inflation.

"The Fed could actually turn hawkish and tighten policy too much," Fels told a conference in Sydney Tuesday via a videolink from the firm's headquarters in Newport Beach, California. "Keep in mind that the Fed is not overly expansionary at this stage. So if you think that if we get a more hawkish Fed and that we will see more rate hikes than the market is pricing in right now, it may well be that the Fed becomes contractionary at a relatively early stage."
Fed officials, who raised interest rates by 25 basis points in December, have given no indication on the timing of their next hike amid evidence of slow but continuing improvement in the U.S. economy. The Federal Open Market Committee next meets March 14-15, with fed funds futures contracts pointing to 30 percent odds policy makers will lift borrowing costs.
Fed Governor Daniel Tarullo is stepping down in early April, paving the way for the White House to fill three of the seven seats on the Fed Board in Washington, where there are already two existing vacancies.
Pimco, which manages $1.47 trillion in assets, has reduced risk in some of its portfolios and thinks it makes sense to insure against inflation, Fels said.
— With assistance by Benjamin Purvis
Before it's here, it's on the Bloomberg Terminal.
LEARN MORE