France's Presidential Front-Runner Says Russia Is Hacking Him Now
By
French front-runner blames Kremlin for attacks on IT systems

Le Pen, Fillon have called for reconciliation with Russia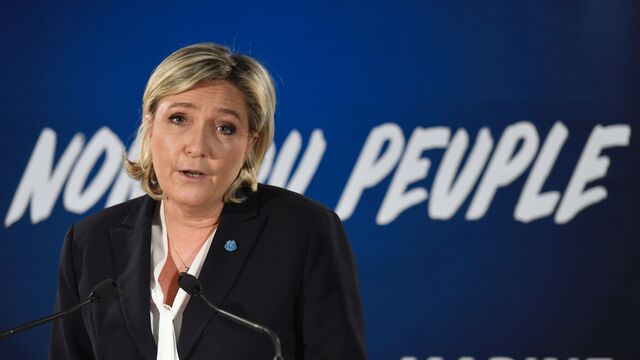 Emmanuel Macron is calling for the European Union to stand firm against Russia as his French election campaign is targeted by computer hackers.
The front-runner to be France's next president wants to maintain dialogue with Russia but insists the EU must take a hard line on any potential interference in European elections, a campaign official said last week, asking not to be named because it's not his role to speak publicly.
Macron's campaign chief Richard Ferrand on Monday blamed the Russian government for perpetrating cyber attacks on his team's computer networks in an interview on France 2 Television. The candidate suffered another attack Tuesday, leaving his website down for 9 minutes, according to Agence France-Presse.
Macron takes a tougher stance on Russia than his main election rivals and has seen his campaign hit by multiple cyber attacks in recent weeks. He has called on the French government to take action.
"These attacks are coming from the Russian border," Ferrand said. "We want a strong Europe. That's why we're subject to attacks on our information system from the Russian state."
Kremlin spokesman Dmitry Peskov denied that Russia had any involvement in hacking the campaign in a conference call on Tuesday. He said there is no possibility that the Russian government had any connection to the attacks and that the accusations were "absurd."
An official at cyber defense unit of France's national security agency would neither confirm nor deny the Russians were behind the attacks when contacted on Monday. An official at President Francois Hollande's office said the government is increasingly concerned about cyber security during the election cycle and it will be discussed at one of Hollande's weekly defense briefings.
Clinton Hacked
European officials are on high alert ahead of elections across the continent this year after U.S. intelligence agencies concluded that Russian President Vladimir Putin ordered a campaign to damage Hillary Clinton's chances in last year's U.S. election
With President Donald Trump now weighing a thaw in relations with Putin, Macron argues that EU nations need to stick together in dealing with their eastern neighbor. While sanctions should be lifted in the long term, they must be kept in place if Russia is meddling in Europe's democratic processes or using its energy exports as a form of geopolitical blackmail, the official said.
Whereas National Front leader Marine Le Pen has called EU sanctions on Russia "completely stupid" and Republican candidate Francois Fillon has repeatedly opposed them, Macron was part of a government that helped impose the measures and has labeled Fillon a "Putinophile" or Putin fan.
"I don't believe in French people saying that great-power France should be speaking to great-power Russia -- good luck with that," Macron said in January in Berlin. "Russia is indeed in Europe geographically and historically speaking. We have lot of passions together, literature. And Russians live as Europeans. But you have Russian leaders who don't share our values and our views."
— With assistance by Helene Fouquet, and Ilya Arkhipov
Before it's here, it's on the Bloomberg Terminal.
LEARN MORE