How to Keep Up With the Podcasts: Don't
They've become high culture, like adult homework. And I'm not doing it anymore.
By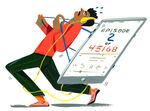 Every morning, after I drop off my daughter at day care and prepare for the walk home, I take out my phone and stare at the unplayed podcasts. Do I continue with another episode of Homecoming, a scripted thriller about a war veteran, or catch up on global news analysis with Monocle's Foreign Desk? Would I rather laugh with the fictitious but all-too-believable Jewish grandmothers Ronna & Beverly or work through someone's unsettled past on Jonathan Goldstein's Heavyweight?
I scroll. I listen for a half-minute. And then I close the podcast app, open Spotify, and play some Bill Withers. I love podcasts, but I've got a case of podcast fatigue.
Podcasts only took hold in 2004; in the past few years, their numbers have exploded, largely because of the commercial success of hits such as Serial. Some are home-brew projects, and others are churned out by well-funded networks including Earwolf and Gimlet Media. The pool of monthly listeners has almost doubled since 2013, to about 57 million, according to Edison Research.
Today, podcasts are high culture. They're part of that species of affluent-adult homework that's not only mandatory but also somehow more intellectually rigorous than listening to music or FM radio. I've never seen The Wire or Breaking Bad, and it took me about a year to finish the latest season of Orange Is the New Black, but now I'm supposed to feel guilty for missing each new must-listen podcast, too?
For an East Coast liberal like me, the question "Did you hear that episode of 99% Invisible?" carries the same peer pressure as "Did you read that article in the New York Times?" The distance between my home and day care is 15 minutes, and I'm not inclined to take a job in the distant suburbs so I can listen to yet another slightly differentiated version of This American Life or one of the two dozen (!) podcasts that friends of mine host on such topics as urban affairs (#UrbanizeThis) and parental wisdom (Advice From Mom), with new episodes dropping once or—Ira Glass forbid—twice a week. I feel my cultural understanding slipping away with each skipped episode—or, at least, I feel as if that's what I'm supposed to feel. It's time to hit pause on this insanity.
My angst aside, there's good news here: The boom in listeners has translated to a spurt in ad spending. According to a report last year by Harvard's Nieman Journalism Lab, podcast advertising grew 48 percent in 2015 (thanks, Casper, Squarespace, and MailChimp), and it's expected to grow an average of 25 percent annually through 2020, when revenue will reach about a half-billion dollars. Erik Diehn, the chief executive officer of podcast advertising network Midroll Media, says, "There's rapid growth in not just the total number of podcasts, but the total number of high-quality podcasts." So you're not only missing podcasts. You're missing really good podcasts.
If it's any consolation, the podcasters providing our quality audio entertainment have the same FOMO, too. "I feel constant anxiety" about not keeping up, says Wailin Wong, co-producer and host of The Distance, a show about "longevity in business" by tech company Basecamp. "If I can only get to a fraction of what I want to listen to, what's it like for other people?" Jesse Brown, the creator of the media criticism podcast Canadaland, says it's not our fault: "A big problem is that we ask listeners to do too much. Radio goes on or off. Podcasts ask you to do a lot, first in terms of discovery, and then, once you've done that, you feel all this pressure to keep up."
Or felt. I'm done trying. As Bill Withers sings, it's gonna be a lovely day, lovely day, lovely day.
Before it's here, it's on the Bloomberg Terminal.
LEARN MORE